Imoke Orders Construction Company To Ogoja Stadium Old Site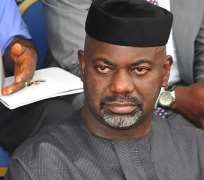 CALABAR, April 27, (THEWILL) - Cross River State governor, Senator Liyel Imoke has ordered Chinese Construction Engineering and Co-operative Company (CCECC) to stop work at the new Stadium site in Ogoja and move to the old Ogoja Township Stadium site to commence work there in earnest.
He gave the order during an abrupt inspection of the ongoing construction of stadiums in Ikom and Ogoja.
Governor Liyel Imoke, who was represented by Commissioner for Lands and Housing, Surv. Raphael Uche, described the new Ogoja Stadium site as a "dam," that was unsuitable for the stadium project; and wondered how the site was chosen for such a project in the first place.
Imoke asked Mr. Xu Shang, the CCECC Site Manager in charge of the Ogoja Stadium construction to immediately start work at the old stadium site.
Shang, in turn, promised compliance of the company with the order, agreeing that the old stadium site is more appropriate for such infrastructural development as against the proposed new stadium site, which he described as "lowland" with water-logged soil.
Uche instructed the survey staff in Ogoja to urgently give the construction company the survey plan of the Ogoja stadium to aid the company in its design and speedy completion of the project. He also implored CCECC to ensure that they complete and deliver the project on schedule.
The CCECC Site Manager for the Ikom Township Stadium, Mr. Wang Bi'ao Hu said that the company had eighteen months to deliver the project and explained the extent of work done; adding that the company came to site in March 2012.