MOVIES, MUSIC AND MEDIA CORRUPTION (1)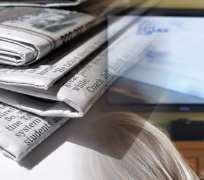 While the secular media pushes Nigeria further into immorality, Christian sit and watch. It is time to draw the line on media corruption and change the channel. Movies, music and media, whatever it is that induces people to do unethical things or believe in such a way to undermine the well being of others and take advantage of others to their detriment is ungodly. God is against movies, music and media corruption.
Bible principle and rule says, don't allow what you approve of to be a stumbling block, offense, hindrance to another's well being. Rather, whatever you do, be it movie, music or electronic/print media let it be done unto edification not just to inform, educate and entertain. (See Rom. 14, 1 Cor. 14:3, 19). God will judge any movie, music and media that defame, mislead, misinform, miseducate and misentertain. Corruption is not just about those who steal public money, take bribe and politicians who deceive and cheat the electorates.
There is corruption in the media, movie and music industries. Media (c) that should be watchdog of the society are being turned to defame and write sensational news that undermines security of lives and properties, creates psychological warfare, stress and ruin families. Journalist, media people watch what you write or air in television. Does it edify? Is it for public good or does it hurt? Media corruption is rampant this day. All some does is to fly kite, come up with fictitious stories about their targets, probably a well to do politician or leader of government. This some journalist does to extort money from their targets, and if the victim succumbs, such stories will not be given to the public.
In some cases, government official give yearly or monthly allocation to publishers and editors of some media houses, hold dinners for them to get them to write only what they want to hear. When some official of government did something wrong and it is to be published they send their press and publicity officers to give out money to media houses to kill such stories, who gains from these behavior? It is corruption of the media and God is against it. Some called it PRO. It is bribery. Things cannot continue this way. We draw the line and change the situation of things in this country. God's judgment is coming on whatever the media, movie, and music industries to do cover up or corrupt practices they helped to enthrone in the system. When the fourth estate of the realm and watchdog of the society compromises, the evil it inculcates invites greater judgment and punishment.
Total media saturation has practically become our society's epidemic. It is the cultural breathe. All the news we hear, the music we play, and the movies we watch are corrupted. Corruption invites Go0d's judgment. Instead of inculcating moral values and building cohesion, the kind of journalism, music and movie we have tends to defame, tear us apart and create insanity, security and desecrate our core values as a people. The media, movie and music industries cannot point out or dramatize immorality and corruption in the polity effectively without first purging herself of traces of these epidemics called corruption.
You want to know how corrupt our media, movie and music are, just take a walk down the aisle of a local video store or a quick goggle search on the internet or a few minutes channel-surfing on cable TV to see that we are in serious trouble. Our culture seems to be obsessed with crass barbarism - with the most blasphemous, relativistic, and humanistic, sexually preserve, violent, occultic and profane forms of entertainment imaginable. Rev. Rod Parsley recalled in his writes up in "Christian magazine" of April 2005! "Remember last year's super bowl debacle? Practically a national holiday, pro football's championship has been called our greatest game, pastime and ritual. The halftime show, unfortunately, is always pretty wretched- bad music, bad dancing, and very carefully choreographed, colossally expensive immaturity for the lowest common denominator of our Cretan culture. But the distinguishing display in super bowl xxxvii was little more than razzle dazzle pornography. It was viciously defiling. It was brazen, vile lascivious, craven, offensive and repugnant-and it completely ruined the rest of the game"
"How about the lyrics? How about the bumping, the grinding and the risqué outfits? How about the whole disreputable mess? Did they not expect such lowborn high jinks when they booked the likes of P. Diddy, Nelly, kid Rock, Janet Jackson and Justin Timberlake to do the show in the first place? Even before Jackson's infamous "wardrobe malfunction", almost a billion people were assaulted with her singing about a man's package"(street slang for "sex organ") and how she was "goona have to ride it tonight " a half described "bad boy" rapper(with illegitimate children from several different woman and a penchant for carrying guns and the throwing parties where nude women and a penchant for carrying guns and the throwing parties where nude woman cavort in the pool) bragged that he was the definition of half man, half drugs/ask the clubs , bad boy- that's wassup"
"Another rapper grabbed his crotch while asking his dance partner to "take of all (her) clothes" a self-avowed "pimp" and "trailer-trash" porn connoisseur performed a medley extolling the virtues of "crack heads", "crooked cops", "hookers" and pornography. We certainly have "evolved" from a time when Rhett Butler's use of the word "damn" in Gone with the wind was met with a collective gasp to a "dum-and-dumber, num-and-number" culture, things cannot like this, Christians must speak up on media, movie and music corruption that tends to enslave and enthrone Satanism in the polity lest the doornsday come sooner than we think. Read next issue for the various corruption and perversion in media, movies and music. Have question, you may call: 08033399821 or write: [email protected] Stay blessed.
Written By Dr. Lewis Akpogena

Disclaimer:

"The views/contents expressed in this article are the sole responsibility of

thewillnigeria.com

and do not necessarily reflect those of The Nigerian Voice. The Nigerian Voice will not be responsible or liable for any inaccurate or incorrect statements contained in this article."
Articles by thewillnigeria.com