FRAUD ALERT: Enebeli Elebuwa Does Not Need N5m Hospital Bill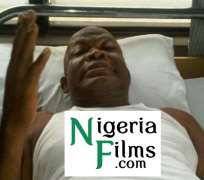 Veteran actor, Enebeli Elebuwa has become the latest victim of fraud being experienced by some top Nigerian celebrities.
Some minutes ago, BlackBerry broadcasts went viral requesting about 5million naira for hospital bill of the actor, who was said to be in an Indian Hospital in Abuja.
We can confirm from reliable sources that the broadcast is false and it was intended to defraud unsuspecting fans of the actor.
Sources also confirmed that Enebeli is responding positively to treatment and nobody has asked for any money from anyone.
We also learnt that no hospital, medical institution or group of people responsible for the veteran actor's health and well being has requested for such an amount.
Please DO NOT pay any money to anyone and DO NOT deal with anyone asking for money for his well being.
You will recall that the actor was hit with partial stroke last year. He was first treated at St Nicolas Hospital, Yaba, Lagos before being taken to St Topaz Hospital, Surelere, Lagos.
He has since being discharged from the hospital.