AU Gives Sudan, South Sudan Three Months To Sign Deal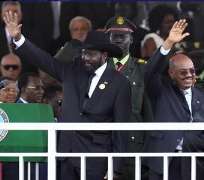 The African Union has demanded Sudan and South Sudan resume talks within two weeks, warning both that it would issue its own binding rulings if they fail to strike deals on a string of disputes within three months.
South Sudan accused Sudan on Tuesday of mounting air raids on the newly independent country's oil-producing border region, after weeks of cross-border fighting between the former civil war foes threatened to turn into full-blown conflict.
The AU's Peace and Security Council (PSC) issued a seven-point roadmap late on Tuesday that called on both sides to cease hostilities within 48 hours and called for the "unconditional" withdrawal of troops from disputed areas.
The AU has spearheaded mediation efforts between the two foes in the past with the backing of the United Nations, the United States and other major powers. The U.N. Security Council said the AU's roadmap was a constructive contribution and would inform its own consultations on further action.
Talks brokered by an AU panel (AUHIP) and led by former South African President Thabo Mbeki collapsed last month after Khartoum asked for time to review recommendations, before Juba briefly seized the disputed Heglig oilfield.
The Addis Ababa-based bloc gave the two adversaries two weeks to resume negotiations on a litany of disputes, including oil, the status of disputed areas and the demarcation of their porous frontier.
The PSC "decides that these negotiations must be concluded within three months of the adoption of this decision", said Ramtane Lamamra, the council's commissioner.
He said that should the talks fail, the PSC would ask the AUHIP to submit detailed proposals on all outstanding issues, so they could be endorsed as final and binding solutions to post-secession relations.
South Sudanese President Salva Kiir has said the latest hostilities amounted to a declaration of war by Sudan.
Sudanese President Omar al-Bashir has ruled out a return to talks with Juba, saying the South's government only understands "the language of guns". However, Sudanese Foreign Minister Ali K
REUTERS