Over 90% Of Nigerians At Risk Of Malaria - Health Minister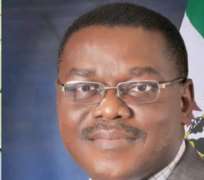 ABUJA, April 24, (THEWILL) - More than 90 per cent of the country's population of 167 million people, some 150.3 million people, are at risk of Infection with malaria fever, according to Minister of Health, Prof. Onyebuchi Chukwu.
Chukwu made the disclosure in Abuja on Tuesday during a press conference, organised to mark the 2012 World Malaria Day, themed Sustain Gains, Save Lives: Invest in Malaria, with the slogan, Let's work together.
He revealed that the Malaria Indicator Survey conducted in Nigeria in 2010 showed that about 52 per cent of children aged six months to five years tested positive to malaria through the Rapid Diagnostic Test.
Breaking it down further, he explained that prevalence was higher in rural areas, at an estimation of about 55.9 percent. To reduce the infection, 47 million Long Lasting Insecticidal Nets (LLINs) have been distributed so far in 30 states of the federation. And the minister has directed the immediate distribution of the nets in the remaining six states and the federal capital territory of Abuja.
"Malaria is a major public problem in Nigeria; Nigeria contributes a quarter of malaria burden in Africa. Over 90 percent of the country's 167 million people are at risk," he said. "It contributes 30 per cent to childhood mortality in the country and contributes 11 per cent of maternal mortality. I must add that it reduces Nigeria's Gross Domestic Product by one percent annually. It is estimated that malaria-related illnesses and mortality cost Africa's economy about $12 billion annually."

Confirming that there have been the challenges, he disclosed that investments in malaria control have resulted in great achievements in the fight against malaria, as deaths have been reduced by one-third in Africa over the last ten years.
Dr. David Okello, the representative of the World Health Organisation (WHO) in Nigeria, who was at the occasion, praised the country for its progress in the fight against malaria but described it as "still fragile."