ABOUT DAYO AMUSA'S NEW LOOK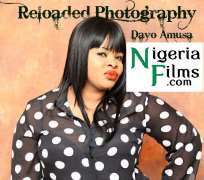 Top actress and producer Dayo Amusa who kicked off her career in Nollywood as an actress,sojourned into movie production few years back.Since then,Ms. Amusa has produced various films that placed her name among top female movie makers in the Yoruba sector of the industry.
It will be an understatement to mention that Ms. Amusa has started ripping dividends of her hard works.
Few years back,Ms Amusa who had a humble beginning, joined the clique of Yoruba speaking actresses cum producers who not only step out in expensive designer labels, but also cruise around the streets of Lagos with posh wonders on wheels.
Early this year, she delved into other investments by opening a school for children at crèche, kindergarten and primary levels.
As you are reading this page now, everything about top actress Dayo Amusa speaks of her newly acquired opulent and depicts how comfortable she has become.
She has become so big that every part of her body added so much extra weight that it could be described as above average when compared with her appearance four years back.
She is no longer the sexy babe of years back,as she has turned to one of the bold and beautiful actresses in Nollywood.
Her fashion in recent times are another aspect of this actress that make statement. From hair to toe,Ms. Amusa appears in all designer labels that people are beginning to wonder if she will overthrow all the rich and glamorous actresses who were there before her emergence.