French Rivals Scramble To Seduce Le Pen Voters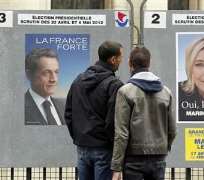 France's presidential rivals scrambled on Tuesday to seduce nearly a fifth of the electorate that voted for far right anti-immigration crusader Marine Le Pen, voicing sympathy for voters' distress in the economic crisis.
Conservative President Nicolas Sarkozy, fighting for his political life after being beaten into second place in Sunday's first round, hammered away at Le Pen's themes of fear of immigration, insecurity and industrial decline at public rallies and in media interviews.
"I want to talk to the little people, to the foot soldiers, to people in the countryside, to pensioners," Sarkozy told a public rally, saying the National Front leader had drawn a "crisis vote" in "the part of France that is suffering".
"You are feeling afraid," he said. "I have heard you."
Socialist challenger Francois Hollande, who topped Sunday's vote and is favorite to win a May 6 runoff, said in an interview with left-wing daily Liberation: "It's up to me to convince the voters of the National Front."
Hollande put Le Pen's unprecedented 18 percent score down to despair among "a suffering electorate of office workers, artisans, and blue-collar workers who are really feeling abandoned" as well as farmers struggling to make ends meet.
Those voters, some of whom came from the left, had wanted to punish not just Sarkozy but also the political system, Europe and globalization, he said.
The two rivals for the second round, which will determine who leads Europe's number two economy, a nuclear power and activist U.N. Security Council member, are adopting sharply contrasting tactics to woo potential swing voters.
Sarkozy is playing up divisive issues such as "real work" versus "assistance", curbing public displays of Islam in France and slashing immigration, while Hollande is trying to project himself as a calm, unifying presidential figure.
"Nicolas Sarkozy is constantly trying to create cleavages... when what people expect from a president, especially in times of crisis, is to be a unifier," said veteran political scientist Roland Cayrol of the Centre for Studies and Analysis.
"By contrast, Francois Hollande, who is the heir to a political family that invented the fundamental cleavage of the class struggle, has adopted the posture of a unifier."
SCORN
Le Pen poured scorn on both main candidates, saying that her supporters had voted for her ideas and not out of protest or distress at the crisis. She made clear her next objective was to win seats in parliament in June and lead "the real opposition".
Based on Sunday's vote, the National Front would reach the second round in some 345 constituencies, more than half of the 577 seats, potentially splitting the right-wing vote in a major threat to Sarkozy's UMP party.
Le Pen said she would give her view of the second round choice at a rally on May 1, but senior aides made clear she was highly unlikely to endorse either candidate.
Analysts say her party's strategy is based on defeating Sarkozy and the mainstream right falling apart in the wake of a lost election.
Projecting himself as the outsider in the race and a victim of media and establishment bias, Sarkozy rejected the idea that Le Pen would arbitrate his duel with Hollande.
"There's only one referee of the second round, as there was in the first round. It's not the pollsters, it's not the pundits, it's the French people, and the French people are free. And it's not Mrs. Le Pen either," he told France 2 television.
REUTERS