GOV DICKSON PRESENTS N217. 58BN BUDGET TO HOUSE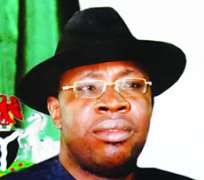 Governor Henry Seriake Dickson has presented N217.58billion Appropriation Bill to the Bayelsa State House of Assembly.
The 2012 budget which was presented late 2011 by former governor, Timipre Sylva was immediately withdrawn by Dickson after his inauguration as governor in February 14, 2012.
Dickson, on Monday, during the presentation of the revised 2012 Budget christened 'Budget of Restoration' said the previous budget presented by his predecessor was withdrawn to allow for proper alignment with 'our restoration agenda.'
Dickson, accompanied by his Deputy, Rear Admiral John Jonah (retd) and members of the State Executive Council of the House of Assembly said the mandate given to him by Bayelsans was for him to restore the lost glory of the state through his agenda.
He explained that in pursuant of the good governance covenant his administration entered into with the people, wide consultations were made to arrive at the revised budget.While disclosing to the lawmakers that the government now had 26 ministries to tackle the multi faceted problems confronting the state, he declared that the restoration budget had been designed to kick-start the restoration of the state.
Giving a breakdown of the budget, he stated that the Works and Transport sub-sector had been allocated N38.8 billion in the revised budget. Dickson noted that the construction of the 3 senatorial roads would be aggressively pursued as well as the construction of a ring road in Yenagoa and the dualisation of the Isaac Boro Road.
The Education sub-sector, the governor announced had been allocated N21 billion to ensure the revamp of decaying infrastructure, completion of ongoing projects and construction of model schools across the state.
He said the Health sub-sector would get N8.8 billion to ensure every local government headquarters got a functional general hospital, adding that the government would arrange for Private Public Partnership to take over the Melford Okilo 500 bed hospital.
Dickson expressed optimism that with the N4. 9 billion allocated to the Energy sub-sector, the government would demonstrate its resolve to surmount the daunting challenges in the sector by concluding investments in the three new additional turbines and the linking up of more rural areas with the grid.
N2.1 billion has been allocated to the Water Resources sub-sector for the completion of all ongoing water projects.
The governor promised that transparency and accountability would be the hallmark of his administration, pointing out that his administration would not back down from the ongoing verification exercise meant to expose fraudulent civil servants and free more funds for development projects in the state.