Abandonment, Non-Execution Of projects, The Bane Of Niger Delta Development - NDDC Boss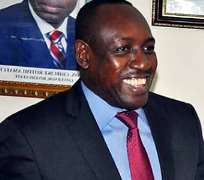 PORT HARCOURT, April 23, (THEWILL) - Despite the commitment of a whooping N1.3 trillion investment to the development of the Niger Delta region in the last few years, many of the contracts awarded are either abandoned or they have barely taken off.
Managing Director of the Niger Delta Development Commission (NDDC), the apex government interventionist agency in the oil-rich region, Dr Christian Oboh stated this on Monday at a media briefing in Port Harcourt, Rivers State.
According to Oboh, of the over 5,000 projects awarded by the agency since its inception, not many have been completed, necessitating his administration's decision to scale down further award of contracts until some of the existing jobs are completed.
"We have decided to stop awarding projects for now," he said. "But we will concentrate on the completion of some mega projects, from the Ndoni in Rivers State to Aboh in Delta State."
He revealed plans of the NDDC "to build specialist hospitals in the region in order to discourage people with ailments from travelling abroad at huge costs," saying that "the hospitals, will hopefully be located in Akwa Ibom, Bayelsa and Rivers states."
Pointing out that the commission is not currently in dire needs of funds, Oboh explained that it is the utilisation of such that is worrying the agency. He lamented the attitude of contractors, who usually receive contracts but do not execute them, or only execute them shoddily
"Some people believe that NDDC belongs to them. We will not negotiate NDDC for private pockets. They (contractors) try to induce us but we always tell them that they should utilise the funds given to them for the work awarded to them," he added.
Speaking on a petition purportedly sent to the presidency over the commission's disrespect for due process in the award of some contracts, Oboh explained that the agency did not carry out any emergency projects in excess of N200 billion as alleged.
Instead, he said what happened was that the approval of its 2011 budget was delayed and when it sailed through, it approached the Bureau for Public Procurement (BPP) for a waiver to commence the projects that needed to be executed.
Oboh promised to fast-track the completion of seven mega projects, including 18 abandoned university hostels project, 11 of which the contractors had assured will be completed by December.