EDO STATE GOVERNOR,ADAMS OSHIMHOLE ACCUSED OF ERECTING N10 BILLION EYE POPPING MANSION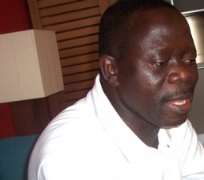 There is a story making the rounds now that the Edo State governor,Adams Oshiomole is currently building an exotic estate in his hometown,Iyamoh,near Auchi,Edo State.
According to an online publication,the former NLC president is building the private estate secretly and it has been described as a paradise on earth when completed.
The online publication alleged that the paradise he is building for himself is directly behind his house,in his compound,not far from Iyamoh Primary School,in Iyamoh,off Auchi Okene road,near Auchi.
The allegation has since been adopted by the opposition People Democratic Party,PDP, whose candidate,Charles Arivaberre(rtd) has already been using it as a campaign issue.
According to the allegation His estate,which is the size of a Texas style ranch,with swimming pools,water fountains and a big occasion hall,amphitheatre,indoor cinema hall,to mention a few is heavily guarded by what can only be described as a battalion of armed vigilantes in 10 Hilux pick-ups and a detachment of fierce looking mobile policemen
The cost of the estate,according to the publication is about 10 billion naira.
But the Chief Press Secretary to the Governor,Peter Ohiria,has come back to debunk the claim.
According to him, If Governor Oshiomole has N10bn he would rather build more roads,schools and hospitals.Even Aso Rock did not cost N10bn to build.
Don't be deceived by frustrated politicians in the PDP
When asked if Oshiomole actually owns the estate or not,the CPS said Don't know of any estate at Iyamoh owned by the gov.He owns a house there which he built long before he became Governor
Meanwhile,the multi billion naira eye popping estate allegedly being built by the hard working governor is already causing some tensions in the political climate of the state which is said to be owing about 100 billion naira.