SUBSIDY PROBE: NNPC DENIES TAKING N845BN FROM CBN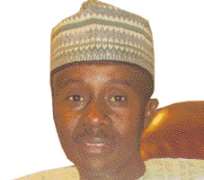 • Farouk
The Nigerian National Petroleum Corporation (NNPC) has challenged the House Committee probe report on subsidy payment, which had indicted it of taking over N844.9 billion from CBN, under the petroleum subsidy scheme, to provide more products to support its allocation.
NNPC Group General Manager, Group Public Affairs Division of the corporation, Dr. Levi Ajuonuma, in a statement at the weekend, said that contrary to the allegation contained in the said probe report, which accused it of withdrawing from two different sources to recover it's subsidy claims, the corporation at no time made such double withdrawals.
NNPC, PPPRA and petroleum marketers were, last Wednesday, indicted by the Farouk Lawal-led ad-hoc committee that probed the fuel subsidy regime in January, this year, of collecting billions of naira from government as subsidy claims.
But Ajuonuma insisted that, 'such a claim was totally unfounded' and, therefore, challenged both the CBN and ad-hoc committee to provide evidence that such payments as alleged were made to NNPC. 'They must show authorisation for the payments as well as breakdown of the amount, purpose for the payments, beneficiary accounts in which such payments were made and the utilisation of such payments.'
He explained that rather than collecting such payments from CBN as alleged, the NNPC applied such subsidy approvals as credit due to the corporation towards the cost of its domestic crude allocation.
'For the purposes of clarity subsidy payments to NNPC is not based on Cash remittance. The mechanics of subsidy recovery by NNPC is not fund based, but by way of deduction form crude cost due. As a matter of fact from the commencement of the subsidy regime there was never a time when CBN paid any money to NNPC in respect of subsidy claim''.
Ajuonuma lamented that despite the fact that necessary documents and information were given to the Probe Committee, it still indicted the corporation. Stressing NNPC presented to PPPRA approvals for 2011 totalling N981billion out of which onlyN844.9billion has been credited to its accounts.
He state that surprisingly the committee claimed that PPPRA approved only N504billion and that the balance was excess payment to NNPC.