Nigeria Blast Kills Five Thought To Have Been Militant Islamists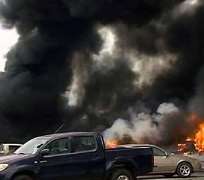 Five people believed to have been members of the Nigerian Boko Haram Islamic militant sect were killed yesterday in an accidental explosion at their bomb-making facility in the northeastern town of Biu, 190 kilometers (118 miles) south of Maiduguri city, a military spokesman said.
Troops deployed to Biu found body parts thought to have been of five individuals killed in an explosion of improvised explosive devices, Colonel Victor Ebhaleme, field operations officer of the joint military task force in charge of security in the region, said by telephone today from Maiduguri.
Two people were arrested trying to flee the factory, Ebhaleme said.
Authorities in Nigeria, Africa's top oil producer, blame Boko Haram for a surge of attacks since 2009 against government buildings and security forces in the mainly Muslim north and Abuja, the capital. The group claimed responsibility for multiple blasts and attacks in the city of Kano on Jan. 20 that killed at least 256 people.
Bloomberg