Style on the pulpit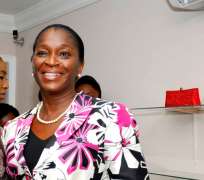 For these women, the pulpit is their runway. While changing lives with their teachings, they strut their styles too and you will be surprised how much of their style is being pilfered. Hey! We aren't saying that the job description of a pastor's wife has changed. But what has changed is their wardrobe.
Many pastors' wives now look respectable, classy, trendy and timeless that often you find it so difficult to take your eyes off them. Despite the fact that they dress modestly, they tend to still play with colors. By doing this they add fun to their total look .These women don't suppress their personality and as result of this, they feel confident in whatever they choose to wear. In no particular order, here are our fabulous preachers' wives, who are always savvy when it comes to looking good.
Ibidun Ighodalo
Our dream girl, Ibidun, is young, sassy and gorgeous. The former beauty queen now married to Pastor Ituah Ighodalo is always
stunning in her exquisite and detailed dresses. Her choice of colours and the way she lights up the red carpet is unbelievable.
Rosemary Odukoya
Her total look can be called true glam. Rosemary, a South African, never ceases to take our breath away. Her hairdo is always fabulous and she looks absolutely stunning every day.
Nike Adeyemi
If you are looking for the meaning of simplicity and class, then look no further because Nike Adeyemi, wife of Sam Adeyemi, says it all with her sense of style. For Nike, sticking to classic shapes and colors makes her stand out.
Ifeanyi Adefarasin
Ifeanyi, a former beauty queen, struts her stuff on the pulpit with her modest but tasteful looks. She can be described as a minimalist with a difference. She's Pastor Paul Adefarasin's wife and mother of their three children. She is classically beautiful.
Anita Oyakhilome
The pulpit is her runway and the way she transforms it with her looks makes our jaws drop. The wife of Pastor Chris Oyakhilome of Christ Embassy is on our list for most stylish woman. She never over-accessorises and she has been rocking some amazing luxury suits.
Helen Oritsejafor
Mama, as she is fondly called, makes us all drunk with envy anytime she steps out in style. Her look can be described as fresh and each time she mounts the pulpit she screams effortless beauty. She is the wife of Pastor Ayo Oritsejafor of the Word of Life Bible Church.
Nkoyo Rapu
If her name is not on your list of the best dressed, then it is not complete. Nkoyo is fashionably fabulous and she pulls her look on very well.
How we love to clone her! She is a showstopper any day, any time. Stephanie is hard to miss in any gathering because of her well-made hair and designer outfits. She always looks picture
perfect.

Ibidun Ighodalo

Rosemary Odukoya

Ifeanyi Adefarasin

Anita Oyakhilome

Helen Oritsejafor