DON'T DIALOGUE WITH BOKO HARAM THROUGH EMIRS -DMS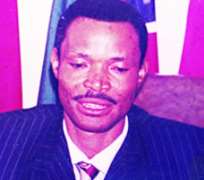 The General Overseer of Upper Light Mission, Okokomaiko, Lagos, reverend Daniel Moses Samuel said in 2006, God spoke to him expressly that he was going to succeed former President Olusegun Obasanjo and he prepared and set his mind towards that and it didn't come to pass which made him to threaten to quit the pulpit.
In an interview with Saturday Sun, DMS, the Quaranic scholar turned pastor from Kogi State disclosed that: ' The reason we in the north oppose any form of conference, whether sovereign or national is the fear of Nigeria breaking up.'
While pointing out the mind of God for Nigeria, stated that God couldn't have lied to him and that he was still waiting for his time to come. He also condemned any move to negotiate with the Islamic sect, Boko Haram through the Emirs and traditional rulers.
Excerpts:
You are agitating for SNC despite the fact that you are from the North that kicks against it, are you not attracting their anger?
The political structure of this country is faulty and God spoke to me extensively on how to take Nigeria to the Promised Land. The man that will take Nigeria to the Promised Land is no other person than Dr. Daniel Moses Samuel, the tender plant from the side of the North. The commission was given to me from God on the June 10,1989,when I was still in the military. Later, God told me to leave the military in 1991 for my preparation, all these while I was an Islamic cleric. God had prepared me for 23 years now for the job.
When people speak from the acts of ignorance it should be rejected. National Assembly can never support SNC because you are indirectly sending them packing. You are a student of history and what cannot work in other parts of the world can work in Nigeria because of Nigeria's peculiar destiny. Nigeria has a great future and a prophetic destiny to be fulfilled in the comity of nations. Nigeria will only have peace when we have a truly Federal system. Those who love this country are agitating for SNC, but those who hate her have been saying no. Now, what was the outcome of the conference Chief Obasanjo set up? Look, spiritual panel beating is soon coming to our leaders that think Nigeria is in their pocket. Go through my last interview with Daily Sun, February 15, 2012. How the SNC and Interim National Government will happen is all spelt out there. There is going to be another arrangement different from the one in place today that I am coming to head with the sword of justice, equity and fairness without sounding immodesty. The National Assembly should look at the provision of section 8 and 9 of the subsisting 1999 constitution and as amended in 2011. Nigerians are tired of re-circling leaders that believe they have the monopoly of wisdom. We have paraded our 'experienced leaders' without performances and corruption and insecurity are on the increase.
Common sense demands that we should try an in-experienced young man who can take the dream and ideal of Nigerians to the Promised Land. We need a pragmatic and consummate leader of thought. We can have a blissful Nigeria of our dream only with leadership that have a strong political will and not what we are witnessing today in Nigeria- a crop of leaders that do not believe in the power of the masses and the supremacy of the constitution. Nigeria should move away from the politics of personality to politics of issues and ideals. I am 46 years now and you are saying I am too young? How old was Tony Blair when he ruled Britain? How old was Gen. Yakubu Gowon and how old was my political mentor, late Dim Chukwuemeka Odumegwu Ojukwu when he led Biafra war in the 1960's? Leadership is not about position but action. I want to use this opportunity to make it clear that I have no wish or plan to enter into politics in Nigeria in the foreseeable future because God did not commission me to fulfill destiny through politics. I have been saying it since April 8, 2003, when I launched my movement called 'DMS movement.'
As Northern and former Quaranic cleric, do you think dialoguing with Boko Haram is the best way to curb the menace?
No. You cannot placate a witch. Boko Haram is worst than witchcraft. I was a Quaranic scholar for over 15 years in the North and also in the military and police force; we have enormous and overwhelmed influence on our followers. Government should not engage the dreaded sects in dialogue. It is too late to do so. They could have initiated this dialogue of a thing before they murdered Muhamed Abubakar Yussuf their founder and 700 sect members. Even if government wants to do so, they should use only Islamic/Quaranic clerics, not Emirs and traditional rulers who have sold their integrity and honor to the government of the day. Government should know that Boko Haram is not like MEND. The only way out is to equip the military and crush hem just like Odi village during the time of Obasanjo. You don't dialogue with people with deaf ears. What the federal government should do now is to see how they can call the powerful Qaranic/Islamic clerics in the north and use them to dialogue with the leaders of more than 50 sects in the north. Federal government should stop this dialogue with Boko Haram using Emirs, political leaders and influential personalities in the North. This Boko Haram had made up their minds for Jihad already. The federal government should wake up and arrest the situation as soon as possible.
Had it been Papa E.A Adeboye believed in me, all these problems couldn't have come to the surface. Economy can only grow when there is peace and stability in the country. You see: justice is like a spirit that never dies. Justice can never be suppressed, one day it will erupt like volcanic rock, and the end result is devastation. That is why SNC is the only way out now. If there was SNC in which there was devolution of power to the federating units down to the LGA, some of the problems could have been averted. One thing I want you to appreciate is that man is composed of nature. You are born into a situation you have no control over.
But you are nurtured into a situation where you can develop a capacity for innovation and defence. If you are innovative enough, you will lead your people to understand that power resides with the individuals. So, every man should have sovereignty at least to live. My advice to the youth is that they should take their destiny in their hands now because the boys of today will be men of tomorrow. The decision they take today will become their sermon in future.
My parents are devote Muslims. I gave my life to Christ in 1991 at Deeper Life Christian Church, Calabar. My parents trained me to be an Islamic scholar. When I was in the police, I gained admission to read Sharia Law in 1986, but police authority refused my transfer to Sokoto State, where I would have assess to the university. God told me to leave police force in 1987.
I was born a prophet. I started receiving from God at age 10. There is nothing I say that does not come to pass and being a pastor or Christian has nothing to do with it. Study the book of Zephaniah; you will see my picture there, where the two rivers joined. It is Kogi State. I'm 21 years old as Christian. I was also 25 years as a Muslim scholar. I had distinction in Quaranic study in my A level.
I hold my Master Degree in Law.
As a spiritually gifted cleric with accurate prophecies, tell us what is behind all the problems in Nigeria?
Nigeria's problems are spiritual, just as I stated in my last interview with Daily Sun Newspaper. Justice, equity and fairness are not practiced in this country. This is primarily a spiritual problem. The president should put people into consideration in formulating policies that concern them. The chieftaincy titles being given to President Goodluck Jonathan were calculated attempt to rubbish him. They orchestrated from the kingdom of darkness to destroy his personality and they succeeded. President Jonathan is a chieftaincy titleholder and I want you to know that every chieftaincy title originated from the shrine no matter how it was distinguished in the physical. It is a covenant with ancestral demons using the ancestral representatives on earth to enslave people.
That is why, these powerful traditional rulers that are bestowing the titles on the president can send for him and he will take the next available flight, if presidential jet is not working to see them because there is something from them he is holding. That is why all over the world, you hardly see a Pentecostal Christians neither appointed nor elected to the post of president in any country of the world. Since the 60's, our leaders had been a twilight Christians and Muslims. Tell me where chieftaincy title is mentioned in the Bible or Quaran? That is why you see instability upon instabilities all over the world because it gives 'the Queen of heaven and Prince of Persia' joy to see the world in chaos. These are the gigantic territorial demons that Lucifer gave the jurisdiction to oversee the running of the government and governance of the world. It will take God's divine intervention for a born again Christian to be President of any nation unless God is prepared to deliver, liberate and lead the country into her Promised Land, which is about to happen in our country soon. It will happen like a dream
What will you advice the leadership of this country?
I want the government to share the political sovereignty of the people when making policy. Government should put policies that reflect what are on the ground and they should not pay deaf ears to them.
Until you return power back to the people, you will all always have crisis. The president, governors, members of National and State Assemblies and council chairmen should go back to Chapter 2 of the constitution to see the economic objectives, so that they stop taking rash decisions like increasing pump price of fuel overnight.
They should be sensitive to the plight of the people. Unless our value changes, our nation will not change. That is why I want the leaders of this great country to know that leadership has been the bane of this country.