Build Muscle and Get Ripped without Steroids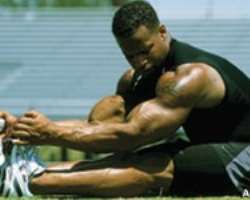 (ARA) - It seems professional athletes and health fanatics are willing to do whatever they think is necessary to get results. Unfortunately, that means they often ignore the risks involved in using illegal substances. There is a better answer to getting long term results and the body you want and do it naturally.
Countless doctors and studies agree that using steroids is not the answer. Anabolic steroids merely inflate your muscles (hence the term "juiced") and do not provide permanent results. There are also several harmful side effects of steroid use like diabetes, rage, aggression, uncontrollable mood swings and significant unnatural changes to body systems. Not to mention they're illegal.
Several professional football players like Simeon Rice, Cato June, Ellis Wyms and three-time Super Bowl champion Roger Craig have been drawn to a new natural supplement called Stemulite. Other professional athletes are currently testing Stemulite and are reporting back with remarkable results. There are also hundreds of U.S. soldiers taking Stemulite and they rave about this natural supplement and how it helps them cope and function.
Because Stemulite is all natural professional athletes are using it without concern to their careers as it clearly passes the banned substance rules. In fact, professional football player Simeon Rice says, "My trainer and medical doctor told me this product is the next level for me, that this needs to be added into my program."
Stemulite is the latest advance in all natural fitness and general wellness supplementation. Dr. David Summers created Stemulite and says, "Stemulite will increase muscle, endurance, strength and drastically reduce recovery time between your workouts". Summers further states that one of the most pronounced effect people notice within days of taking Stemulite is the ability to reach a deep REM sleep. Sleep helps increase general wellness and performance dramatically.
"Stemulite is the most powerful supplement I have ever put into my body, period," says Corey Simpson, a former Mr. Florida and active fitness professional. "In the first couple of weeks of using Stemulite, I increased the weight I was lifting by 30 percent and I doubled the amount of repetitions in my workout. It was a little hard to believe," he says. "In weeks, my muscle definition changed and I dropped excess water weight. In addition, Stemulite has given me a great and deeper sleep, I have shared this product with both male and female clients that I train and the results have been consistent as they have used this product."
Corey and Paul Simpson of Tampa, Fla., both professional athletes and trainers that currently work with NFL and MLB players and professional boxers. They worked with and monitored more than 20 athletes over a 1 month period for the initial Stemulite trials. The athletes changed nothing in their routines, but adding Stemulite to their daily diet. As the results came back, it was clear that by adding Stemulite to their regimen they consistently saw:
* A dramatic increase in strength and improved endurance
* Dramatically reduces recovery time to hours, not days
* More repetitions and improved muscle definition
* A decrease in body mass index (BMI) and greater muscle tone
* Higher sustained energy and more consistent energy throughout the day
* Improved rest and sleep -- the most common benefit
Want to learn more about Stemulite and how it can work for you? Log on to www.PoweredByStemulite.com to request your free copy of "The 7 Powerful Components Of Stemulite" and certified laboratory report from Michelson Laboratory Inc. You must have a valid e-mail address to receive this report.
Copyright © 2008, ARAnet, Inc.