LG INTRODUCES WORLD'S FIRST MULTI PERFORMING AC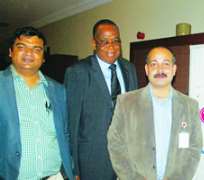 Poised to place more emphasis on the demand for energy-saving technology, LG Electronics, a global leader in consumer electronics, at the weekend unveiled its new Multi V III Solo air conditioner to the Nigerian market.
The Multi V III Solo has three unique benefits, which include higher energy efficiency, eco friendly, and longer piping design. The unit's increased energy efficiency, which is boosted by LG's unique DC inverter compressor technology, delivers a COP level (coefficient of performance) of 3.5. With a total piping length up to 150 m and a level difference of 50 m between ODU and IDU, the Multi V III Solo provides optimum solution for small/medium-sized building. Multi V III Solo can be connected to max no of 32 indoor units in any building.
Speaking at the event held in Lagos, Managing Director, Tecnicool, Mr. Niyi Kolawole, said: 'There is no better time than this to introduce to the Nigeria market an AC with fast cooling response and space-saving smaller footprint. This is a great need that the LG Multi V III Solo has come to fulfil in Nigeria.'
The Managing Director, Blue Ocean Technical Services, Mr. Anupam Ghosal lauded LG's initiative in its continuous bid to providing products to meet the apt needs of its teeming consumers. 'Only a compassionate organisation like LG Electronics would stop at nothing to ensure that its consumers are pleased with its ranges of products built on innovation and cutting edge technology,' he said.
Managing Director, PERA-BEAM, Engr. Shola Erinle said the introduction of the Multi V III Solo has heralded a new era into the business of commercial air conditioning in Nigeria. He described it as the era of comfort, energy saving and unprecedented fast cooling technology that would create the much desired environment for Nigerians to do business and be pleased.