Recipes: Spiced Peach Muffins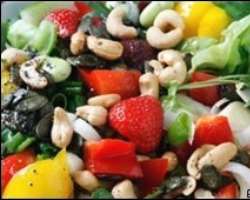 Recipe
2 c All-purpose flour
1/2 c Granulated sugar
1 tb Baking powder
1 ts Salt
1/2 ts Baking soda
1/2 ts Ground cinnamon
1/2 ts Ground nutmeg
1 ds (dash) ground mace
1 lg Egg, slightly beaten
8 oz Container peach yogurt
1/3 c Milk
1/3 c Vegetable oil
1/2 c Dried peaches,finely chopped
-------------------------------CRUNCH TOPPING------------------------------- 2 tb All-purpose flour
2 tb Brown sugar
2 tb Chopped walnuts
1/2 ts Ground cinnamon
2 tb Butter or margarine
Preheat oven to 400 degrees F. Grease bottoms of 12 muffin cups or line pans with paper muffin cups. In a medium bowl, mix flour, sugar, baking powder, salt, baking soda, cinnamon, nutmeg and mace. In a small bowl, mix egg, peach yogurt, milk and oil. Make a well with a spoon in the center of the flour mixture. Pour egg mixture and chopped dried peaches into the well. Stir until flour mixture is moistened; the batter should still maintain some lumps in it. Gently spoon batter into greased muffin pan cups, filling each 2/3 full. Mix all ingredients for the crunch topping except for the butter; cut in butter or margarine until crumbly. Sprinkle each muffin with approximately 2 ts. of the topping. Bake 20-23 minutes or until golden brown. Remove muffins from the pan and serve warm.
From the recipe files of [email protected] -----
Free Recipe Guides
You can use our site as your own personal Recipe Cookbook with categories and everything and, it's all online so you can come back anytime and find the recipe for what you feel like cooking. We have lots of great stuff like many free recipes save all your favorite recipes in one place, rate recipes, post comments on recipes, e-mail [email protected] a recipe and lots more.