JESUS BLESSES KESHI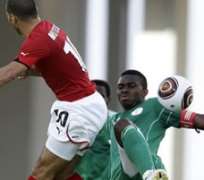 Former Stationary Stores hitman, Jesus Ndongo, has thrown his weight behind Super Eagles' Coach, Stephen Keshi, disclosing that he has been praying for the success of the Delta State-born tactician.
The Equatorial Guinea born ex footballer, which was very popular with Lagos soccer fans in the glorious days of the now defunct Stationery Stores, said he saw 'The Big Boss' taking the Eagles back to the top of African football.
Jesus, who spoke exclusively to Daily Sunsports at the Liberation Stadium in Port Harcourt when he led Ela Nguema to play Dolphins in the CAF Champions League last month, said he was happy with Keshi's decision to look home ward as he tries to rebuild the Super Eagles.
Hear him: 'I must confess to you that I am impressed with what Keshi is doing with the Eagles. His decision to give the home lads a place in the team is a step in the right direction. I am praying for him to succeed and I want to believe he would.
'My appeal is that the Nigerian football authorities should give him all the support. If they give him the kind of support they give the expatriate coaches, he will definitely succeed. The problem is that when an indigenous coach is there, the soccer authorities give him very little support. Westerhof was able to deliver because he had the support of everybody including the government.'
Jesus, who is now Special Adviser to the President of Equatorial Guinea on sports, said he still followed Nigerian football closely, even as he regretted Nigeria's failure to qualify for the Nations Cup, which Equatorial Guinea co-hosted, with Gabon early this year.
'Its unfortunate Nigeria failed to qualify for the 2012 Nations Cup. The Super Eagles would have lit up the competition. With Keshi, I see the Eagles making it to South Africa next year,' he said. Jesus, who looked quite unruffled despite the heavy defeat Ela Nguema suffered in the hands of Dolphins, said there was no comparing the standard of Nigerian football and that of Equatorial Guinea declaring that Nguema came to Nigeria to learn.
Nguema it is recalled suffered a 0-6 aggregate defeat in the hands of Dolphins, who have since equally crashed out of the CAF Champions League. Dolphins had after their first round victory over Nguema failed to get past Cameroon's Cotonsports.