Nigeria president in Germany on business visit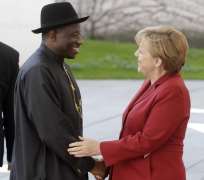 President Goodluck Jonathan of Nigeria is on official visit to Germany. He was received by Germany Chancellor, Angela Merkel. He inspected a guard of honor and met German government officials as well as Nigeria diplomatic mission in Germany.
He also held talks with the Chancellor on areas of business cooperation and secruity matters which has become a challenge his administration in Nigeria
As part of the President program is series of business meetings with selected group of chief executives of some corporations in Germany
The President is also expected to hold talks with German Chancellor Angela Merkel on bilateral relations between the two countries and subsequently visit the German Council of Foreign Relations where he would be involved in an interactive session with a selected group persons including top Nigerians resident in Germany.
He would undertake a project tour of Siemens Turbine Factory tomorrow before meeting with German President Joachim Gauck in his office in Scholoss Bellevue.
We shall keep you informed with the rest of his activities in Germany.
Meanwhile the Kwara state Governor, Governor Ahmed is still on his visit to the Netherlands; today he has visited the Dutch Ministry of Foreign Affairs and later to the FMO and he would be guest at the African Business Club at Netherlands Africa Business Council (NABC). And later this evening, His Excellency, Governor Ahmed would be hosted and given award by indigenes of his state based in the Netherlands; The Kwara State Association of Nigeria (KSANG) Netherlands Chapter.
In subsequent report, we shall allow in to the reception organized by Nigeria Ambassador to the Netherlands, Dr. Mrs. Akanbi for the honorable Governor of Kwara State.
President Goodluck Jonathan of Nigeria