In Defence Of Jonathan, Niger Delta Youths Threaten Violent response To Boko Haram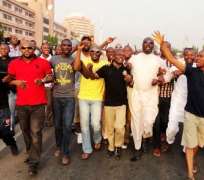 PORT HARCOURT, April 18, (THEWILL) - Youths in the Niger Delta have threatened to unleash terror and assume control of the oil wealth in the region in order to deny the North of access to it, if urgent steps are not taken to tackle the denigration of President Goodluck Jonathan by activities of the Boko Haram Islamist sect.
In a Wednesday email to THEWILL, the youths, under the auspices of the South-South Youth Leaders Forum and the Association of Ethic Nationalities in Niger Delta, expressed reservations for the sect's persistent attacks on the "person and office" of President Jonathan.
"We hereby condemn, in strong terms, the utter display of disrespect on the person and office of President Goodluck Ebele Jonathan (GCFR), Commander in Chief of the Armed Forces of the Federal Republic of Nigeria," the statement, signed by Barrister Amachree Odiedim, chairman of the South South Youth Leaders Forum, stated.
"We shall vehemently and very violently resist any attempt to harm the person or office of President Goodluck Jonathan. We shall come out in full force to fight all agents who want to ridicule his regime, and return violence to the doorsteps of such persons or groups."
In what appeared as some sort of contradiction, the groups expressed dissatisfaction with the handling of the sect's rebellion, and gave conditions that, if unimplemented, will attract drastic response from them.
"We urge the Acting Inspector General of Police to declare the leader of Boko Haram wanted. We also want the security operatives to immediately take steps to publicly prosecute all those arrested in connection with Boko Haram," the statement demanded.
"We also demand that northern governors should, as a matter of
urgency, publicly condemn Boko Hram and its activities, especially the insult on the President; while Islamic religious leaders, youth leaders, and women group should publicly dissociate themselves from Boko Haram."
"If these conditions are not met," the coalition warned, it "will not only take control of oil resources in the Niger Delta but will also take over all such oil investments wrongfully in the hands of Northerners on our soil, and make deliberate efforts to cut supply of petroleum products to the North as soon as possible."