No Witch Hunt With Capital Market Probe - Tambuwal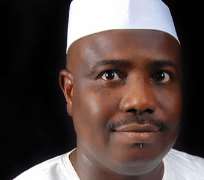 TAMBUWAL, April 17, (THEWILL) - More than one month after it was constituted, the House of Representatives ad hoc committee on the investigation into the near collapse of the capital market has began sitting, even as Speaker Aminu Waziri Tambuwal has said the inquiry is not a witch-hunt.
The speaker who gave the clarification while declaring opened the public hearing by the Hon. Ibrahim Tukur El-Sudi led ad hoc committee also pleaded with Nigerians to put behind them the crisis that engulfed the Hon. Herman Hembe led capital market committee necessitating the setting up of a new committee.
He said the House was interested in finding out the causes and those responsible for the crash of the market so that a lasting solution could be advanced.
Represented by the Minority Leader, Hon. Femi Gbajabiamilah, the Speaker expressed confidence in the ad hoc committee to deliver on their mandate.
"You are all aware of the history of this hearing. We have gone full circles. I want Nigerians to put behind them what has happened in the past so that we can find out what has caused the Nigerian capital market. It is a hearing that is meant to return Nigeria to where it ought to be. It is not an adversarial hearing.
"We have no worries, we believe in them, they are thorough, true professionals and we believe they will do a good job," he said.
Earlier in his welcome address, the chairman of the ad hoc committee, Hon. Ibrahim Tukur El-Sudi said though the panel was not out for a blame game, "it is important to know what brought us to this sorry state and where mistakes were made or outright frauds committed. They must be admitted and rectified in order to restore confidence."
He charged stakeholders to speak the truth in order to restore confidence in the investors since "without the confidence of both local and foreign investors, this market will not resuscitate and confidence can only be engendered when the market is seen as having integrity, transparency and fairness."
The chairman promised that the committee would be fair and keep open minds to ensure that the investigation marks the beginning of the turnaround of the capital market.
Recall that the 8-man ad hoc committee was inaugurated after the failed attempt by the Hon. Herman Hembe led capital market committee was engulf in a crisis of confidence after the Director General of the Securities and Exchange Commission (SEC), Arunma Oteh levelled allegations of N44 million bribe against the committee.