SEGUN ONI'S ALARM IN OSUN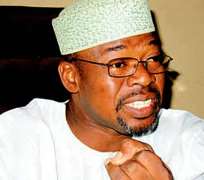 It is hard to believe that instead of facing the onerous task of definite governance in Africa most populous black nation, the ruling People Democratic Party is hiding under the unfathomable security ruse to accuse Osun State Governor, Mr. Rauf Aregbesla of sedition. The party is using all sorts of coercive subterfuge to rope in Aregbesola for opposing the inanity and dramatization of mediocrity by President Goodluck Jonathan presidency.
Chief Segun Oni, the former de facto Governor of Ekiti State and National Vice Chairman (Southwest) of the PDP who was rusticated from office on account of electoral fraud two years ago stirred the hornet's nest in his wide allegation that the relocation notice given to the Nigeria Television Authority NTA, in Oshogbo, Osun State by the governor is a breach of security concern which threatens the corporate co-existence of Nigeria unity.
Not satisfied with the above deceit, PDP comes forth with yet another lies that Governor Aregbesola has conscripted Osun and Ekiti States students union activists into the 'Oduduwa Republic' secession bid. The Zonal Publicity Secretary of the party, Hon. Kayode Babade blamed Mr. Aregbesola for attempting to take student union leaders to Cuba for paramilitary training. Kayode called the security agencies in the country not to treat the information with levity.
Both allegation, wrongly intended, came at a time the presidency ought to been reflecting itself in the mirror of collapsed security apparatus. Oni's media aide, Mr. Lere Olayinka spoke earlier thus: "The governor's actions in the recent past and open contempt for the federal government, including President Goodluck Jonathan and Vice President Namadi Sambo, are enough evidence that he (Aregbesola) is up to something sinister against the corporate existence of Nigeria."
He added a caveat: ''the federal government must call Aregbesola to order before he begins to destroy federal institutions in Osun State. "This, to us is an indication that Governor Aregbesola's hatred for the federal government and unity of Nigeria is graduating to an alarming state and if the governor is not checked now, he will one day ask that a federal institution like the Obafemi Awolowo University (OAU), Ile-Ife be moved from its present location because he wants to plant flowers or build a shrine there."
Oni's call, if anything, calls to mind the diversionary antics of PDP administration that is constantly fixated at looking at the crescent rather than the moon. His panic outburst which amounts to fanning the ember of anxiety or crying wolf where none exists in the Southwest is principally design to buy time in the face of daunting security challenge in the country. Day after day, PDP has found that blaming opposition party for its woes and gross incompetence can longer wash after the deceptive fuel subsidy debacle that exposed the emptiness of its leadership.
Such outcry by PDP chieftain should have been directed at President Goodluck Jonathan who has been fiddling while insecurity spirals to unimaginable sectarian violence and blood-letting in Nigeria never seen since flag independence. PDP and President Jonathan have botched the nation in all counts and have failed the most basic text of governmental mission of protecting lives and property of the citizens. It's pathetic that the irreducible minimum of government – protection of lives and property has eluded PDP government in power.
How can the relocation of a federal television station by a seating governor possibly be attributed to secessionist agenda? How does relocation of television station in a state translate to balkanization of Nigeria? Who can argue it with me that long before now that NTA is not already demolished and erased from the consciousness of Nigerians across the 36 states of the federal, Abuja inclusive? By the way who does not know that NTA is the mindlessness of the hopelessly incompetent federal government – a copycat that repeatedly parrots government falsehood at the expense of Nigeria masses?
Aregbesola has explained repeatedly that Osun state government has provided land within the state capital as the proposed new site and will build a brawn new television station with aesthetics and all the modern equipment needed for its operation so that the present location can be rededicated to tourism for its primness. This patriotic feat and salutary magnanimity of an opposition governor should have been commended by a rational being who truly strives for the survival of Nigeria nationhood.
Tourism brings in large amount of income in payment for goods and services available, contributing an estimated 5% to the worldwide gross domestic product (GDP), and it creates opportunities for employment in the service industries associated with tourism. These service industries include transportation services such as airlines, cruise ships and taxicabs; hospitality services, such as accommodations, including hotels and resorts; and entertainment venues, such as amusement parks, casinos, shopping malls, music venues and theatres.
Tourism has become a popular global leisure activity. In 2010, there were over 940 million international tourist arrivals worldwide, representing a growth of 6.6% when compared to 2009. International tourism receipts grew to US$919 in 2010, corresponding to an increase in real terms of 4.7% of Incidentally, Nigeria is not one of the countries visited during this period and therefore could not benefit from the (GDP).
Aregbesola is firmly convinced that the vital importance of government is to widen its tentacles to other sectors so as to meet the basic social needs which are the springboards for basic economic growth. He sees Tourism as one of such schemes which will not only place Osun State on the world map of Tourist Attraction but also serve as a source of revenue generation especially now that economists are addressing post-oil economy. Governance requires thinking 'outside the box', breaking out of familiar thought patterns and coming up with new possibilities. This is exactly what Aregbesola is doing.
Consider the lame accusation that the Governor is sending students union leaders to Cuba for paramilitary training which he succinctly denied that the students' mission in Cuba is meant for the May Day Celebration and inter-cultural exchanges amongst the two countries. This act of student exchange between two similar cultures – Cuban and Yoruba – for better understanding and cooperation for our commonwealth cannot possibly be mistaken for military or paramilitary training. Where is the evidence that the students are going to Cuba on account of military training? We can send students to Brazil, Puerto Rico, Cuba, America, and Haiti. . . . anywhere in the world where the Yoruba spirit and culture and philosophy is actively and prevalently observed and recognized as a mainstream and official way of life and spirituality.
Aregbesola has not done anything wrong or acted counter to the provisions of the Constitution that guarantees and protects the right for cultural development and religious practice. ACN is a national party, and the student inter-exchange is not lug under the banner of the party but as attested: Aregbesola is the sponsor of the programme and it is on record that the sponsorship is older than his governorship. But the question is why is PDP not perforating Aregbesola's claims that his sending students to Cuba predate his governorship?
The identification and resurgence of ethnic pride in Nigeria is not new! Arewa and Biafra are two examples of ethnic people that have hoisted flags, composed, anthems, drafted constitutions and created republic coalitions. So what's new when Oduduwa puts up its flag, anthem and constitution on face book, if at all there was one?
There is no gain saying reiterating the fact that PDP is happy seeing its tormentor, Aregbesola being unduly vilified and placed on a nail-embedded throne as a result of his unyielding political leaning and principles. It is better informed that this is not the opportune time to gyrate, if at all it has been laying a bobbing trap for its perceived enemy.
One would assume that the incessant bombings and bloodletting in different parts of Northern Nigeria will arrest the attention of the Federal Government and other relevant authorities to find an end to the menace instead of chasing shadows. Nigerians can't wait to heave a sigh of relief from the Boko Haram scourge, and the time is now.
Written By Wale Odumakin

Disclaimer:

"The views/contents expressed in this article are the sole responsibility of

thewillnigeria.com

and do not necessarily reflect those of The Nigerian Voice. The Nigerian Voice will not be responsible or liable for any inaccurate or incorrect statements contained in this article."
Articles by thewillnigeria.com