THE INSPECTOR GENERAL OF POLICE, MINISTER OF HEALTH ADDRESS THE RIGHTS OF CRIME VICTIMS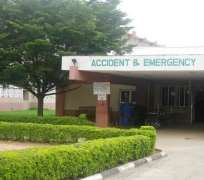 There is urgent need for the management of the Nigeria police and the health sector to aggressively tackle the long standing problems in the areas of medical emergency contact, and urgent services needed by victims of crimes, violent and traumatic ones especially.
A test case is the reported incident of a murdered medical doctor in Lagos, Dr. Samuel Adegboyega who was supposedly fatally shot by some gunmen in the early hours of Easter Monday in front of his clinic.
Witnesses to the crime appeared to have noticed Dr. Adegboyega, fatally shot and bleeding, at which time he was urgently rushed to a nearby medical center named the Oke-Odo General Hospital.
The doctor who was reportedly profusely gushing out blood from one of his injuries at the back of one of his arms was apparently refused immediate medical attention by the staff of the hospital—because the staff wanted a police report first.
Certainly, this reported unusual delay could hasten death in such an emergency case like that of late Dr. Adegboyega who purportedly got attention late.
If the acting Inspector General of Police, Mohammed Dikko Abubakar and the Minister of Health, Professor Onyebuchi Chukwu want to bring a stop to horrible cases like that of late Adegboyega, the right of crime victims in any hospital must be promptly protected through urgent care and treatment.
In a devastating and traumatic medical case as in victims of violence, arson, bombing or any other life threatening incident, immediate medical attention comes first, followed by a police investigation and report.
For a conscious victim it is always prudent to get much information from him or her to assist in the investigation but where the victim is not very alert mentally or too physically weak for any verbal utterances instant medical attention comes first and become paramount.
It is time for a new collaboration between the offices of the Nigeria police, all ministries of Heath and Justice in order to erect educational initiatives backed by executive policies in the area of victims of crime Services, which must be obeyed by all public and private medical outfits in the nation.
Hospital and police/law enforcement staff need to be trained on knowledgeable information, investigative and referral services for victims and their families, violent cases especially.
As we know the hospitals and the police are the first to provide services to victims as such they must become aware of basic standards of care procedures that must meet the needs of crime victims appearing in their emergency rooms for medical attention.
In the same vein, this future emergency treatment plans should equally be extended to specific groups such as domestic violence, child abuse and rape victims, and to victims with an impaired capacity mentally, developmentally and physically.
The federal government just likes the reported witnesses and sympathizers of Dr. Adegboyega must accept their responsibility to help alleviate the effects of crimes and violence suffered by victims, even in the least remote areas of the country where there is also a crucial need for fully functioning ambulance services, workable fire service and medical emergency squads.
At a time when President Jonathan is pushing the Nigerian Government to commit to meeting the international standards in the areas of human care and governance, let us make it easy for victims and their families to find what they need quickly from our centers of care and security.
Written By John Egbeazien Oshodi, Ph.D.
[email protected]

Disclaimer:

"The views/contents expressed in this article are the sole responsibility of

thewillnigeria.com

and do not necessarily reflect those of The Nigerian Voice. The Nigerian Voice will not be responsible or liable for any inaccurate or incorrect statements contained in this article."
Articles by thewillnigeria.com