PDP Takes On IBB Over Comments Faulting Party's Convention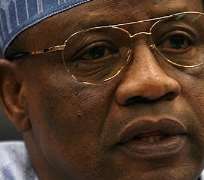 SAN FRANCISCO, April 15, (THEWILL) – The National Secretariat of the Peoples Democratic Party (PDP) Sunday reacted to comments credited to former military dictator and party man, General Ibrahim Babangida and his spokesman, Mr. Kassim Afegbua, who both discredited the electoral process that produced the party's national officers including new Chairman, Alhaji Bamanga Tukur.
Babangida said described the process as undemocratic and alleged that some candidates were intimidated and muscled out of the race by the powerful forces in the PDP.
But the National Publicity Secretary of the PDP, Chief Olisa Metuh has described as a surprise as well as a huge disappointment the statement credited General Ibrahim Babangida in the National Mirror newspaper of Sunday 15th April 2012, where "unrestrained aspersions were cast on the electoral processes that culminated in the recent National Convention of the PDP."
The PDP said it was unfortunate that for a second time in a week, such a frontal attack on the person of the President, the National Chairman of the Party, the Publicity Secretary and indeed the entire essence of the current leadership of the Party was coming from a respected statesman and former President…
"The statement credited to the former President is surprising because known tradition the world over is for former Presidents to tow the path of maturity and decorum in criticisms of perceived lapses of the incumbents. We know of George Bush Jnr. and President Obama and we also know of Tony Blair and Prime Minister Cameron.
"It is therefore an embarrassment on the person of the former President of Nigeria for his Media Spokesperson to recourse to a recipe of media relations that subsists on public acrimony and less noble language."
"We must state for the avoidance of doubt that, that there is nothing wrong in the electoral consensus option through which our national Chairman, Dr. Bamanga Tukur emerged that constitutes an inhibition in the effective discharge of his functions as the National Chairman of our Party. That other aspirants, having noted the likely trend of voting, decided on their own to withdraw from the race and support an aspirant does not translate to incapacity on the part of the consensus candidate."
The Statement added that General Babangida, prelude to the 2011 presidential primaries of the PDP, wholeheartedly subjected himself to the then Northern Presidential Consensus arrangement in which Alhaji Atiku Abubakar emerged, showing that it is no such danger to democracy…
"We do not intend to descend to the gutter as Afegbua has been doing because we still hold the former President in high esteem. However, we must state that for a leader in our Party to engage a loose cannon as his Media Assistant, care must be taken to restrain him from injury to Party loyalty.
"In the same essence, we wish to put on record that if our respected Party leader has donated his Spokesman to the Action Congress of Nigeria gubernatorial campaign in Edo State, it is not a lesson in loyalty and Party building."