2015: CALL YOUR FOOT SOLDIERS TO ORDER - BALARABE MUSA, WAKU TELL JONATHAN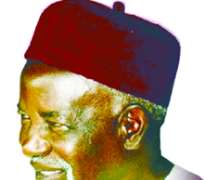 Almost three years away from the 2015 presidential election, political tempers are already rising across the country over suspected moves by President Goodluck Jonathan to contest the poll. Towards this end, prominent Niger Delta leaders, including First Republic information minister, Chief Edwin Clark have been making comments, warning that nothing will stop their kinsman from contesting the election.
And from the northern enclave of the country, two prominent voices have shot back at the Ijaw chief. Former governor of Kaduna State, Alhaji Balarabe Musa and National Vice Chairman of the Arewa Consultative Forum (ACF) Senator Joseph Waku are asking President Jonathan to put the bridle on Chief Clark and those they refer to as his foot soldiers for 'third term.'
The two Northern leaders, who spoke with Saturday Sun on recent comments by Chief Clark and leader of the Niger Delta Peoples Volunteer Force, Asari Dokubo warned that such comments constitute distractions to the administration of President Jonathan, adding that only the president has the responsibility to call them to order.
According to media reports, Chief Clark was quoted to have said in Lagos last week that there was nothing wrong in President Jonathan seeking re-election in 2015. In his reaction to the subtle but obvious re-election campaign for President Jonathan, Alhaji Balarabe Musa, who is the National Chairman of the Conference of Nigerian Political Parties (CNPP), said: 'There is nothing wrong for anyone to seek political office but such must be done fairly. But for those in power, they have a responsibility to govern now and good governance and how to serve the people well should be their focus now.
'The question of stopping any candidate from contesting in 2015 is not the work of any section of the country but that of all sections of the country. The performance of those in office now will determine whether the people want them back in next election or not.'
In specific terms, the former governor of old Kaduna State said: 'Those in office have a responsibility to call their foot soldiers to order. They should be held responsible for the comments and actions of their foot soldiers running campaign errands for them.
'For somebody like Chief Clark, he should know certainly that his comments on this is a distraction now and he is making things difficult for the president and making it hard for him to perform. He needs to allow the president face the task on his hand.'
In his own reaction, the ACF chieftain, Waku warned Clark and others making comments on the 2015 presidential election to refrain from making statements capable of heating up the polity.
According to him, 'Clark is back on the path of heating up the polity with reckless statements. He should wait till 2015 before passing the verdict of whether the North can stop Jonathan or not. There are many expectations from the present government by Nigerians and at a time when not a single expectation is being met, it is irritating that someone can have the guts to start talking about re-election for that person. That is talking nonsense and it won't work.'