Angry Ojobo Community Youths Stone Orubebe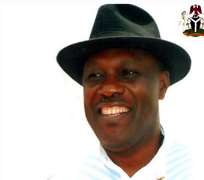 DELTA, April 13, (THEWILL) - Niger Delta Minister, Elder Godsday Orubebe at the weekend escaped being lynched by the skin of his teeth when his kinsmen at Ojobo in Burutu Local Government Area of Delta State vented their spleen on him.
Elder Orubebe, rumoured to be interested in standing for election in the next governorship race of the state, had gone to Ojobo community in his Passport-19 speed boat to commission the house of Mr. Victor Zuokumor, a domestic aide of his who is equally an indigene of the community.
But trouble began brewing when the house commissioning was done and the minister was set to leave. He was confronted by irate youths who expressed their anger over the slow pace of development and lack of job opportunities.
The confrontation assumed a hostile dimension, after which Orubebe was stoned as he zoomed off in his private boat.
Speaking on the matter, the student representative, western zone, of the Ijaw Youth Congress (IYC), Comrade Franklin Magada, himself an indigene of the community, condemned the act.
"It was uncalled for, and there were other amicable avenues to express their grievances," he said, urging the youths to embrace peace for the sake of the region's development.
Contributed by Brisibe Perez, Warri