FG Appeals Court's Acquittal Of Akingbola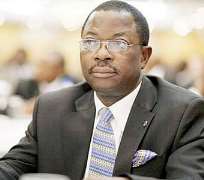 ABUJA, April 12, (THEWILL) - The shocking freedom recently handed down to Dr. Erastus Akingbola, erstwhile Group Managing Director (GMD) of Intercontinental Bank by a Lagos High Court, is set to face its first test, as the Federal Government on Thursday filed an appeal against the ruling, accusing the judge of the Lagos Federal High Court who handled the case of "bias and recklessness" in arriving at the decision.
In the appeal, the FG branded Justice Charles Efanga Archibong, the judge who delivered the April 2 judgement, "unreasonable" in his manner of discharging Akingbola.
Filed by Chief Godwin Obla at the Registry of the Court of Appeal, Lagos Division, and made available to THEWILL, the FG's case asked the appellate court to set aside the entire decision of Justice Archibong, which dismissed the 26–count criminal charge and set Akungbola free.
The Federal Government also sought an order of the Court of Appeal to remit the case to the Chief Justice of the Federal High Court, Justice Ibrahim Auta for reassignment to another judge who would retry on merit.
It also claimed that the trial Judge erred in law when he proceeded to dismiss the criminal charge without affording it opportunity to be heard. The appellant, in addition, claimed that the decision of the lower court on the dismissal of the case did not emanate from any of the applications pending before the judge.
It further claimed that the Judge failed to invite parties in the case to address him and that the decision to strike out the criminal case constituted a violation of its rights to fair hearing.
In the particulars of errors raised against the Judge, the Federal Government claimed that it had, on September 2, 2011 asked Justice Archibong to disqualify or excuse himself from the case on the ground of likelihood of bias.
The appellant said that rather than disqualifying himself, the Judge went ahead to hear the case even when a notice of appeal had been filed against him for refusing to steer clear of the case.
Government faulted the claim of the Judge that the case was not diligently prosecuted, adding that the record of the court did not give credence to the argument.
It was also argued that at the time the Judge struck out the case against Akingbola, an appeal rendering the dismissal of the case null and void was pending in the Court of Appeal.
No date has been fixed for hearing of the appeal.