Military Seizes Guinea-Bissau's Capital, Possible Coup; Leader's Whereabouts Unknown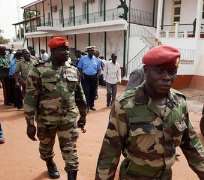 Explosions blasted through the capital of the small, coup-prone nation of Guinea-Bissau on Thursday as the military sealed off the city's downtown area and lobbed grenades at the prime minister's home, according to a diplomat and witnesses.
The body representing nations in West Africa said it "formally condemns any attempt at a coup d'etat," according to Daniel Kablan Duncan, president of the body's Council on Mediation and Security.
The violence comes just weeks before the country's presidential runoff vote, which Prime Minister Carlos Gomes Jr. was favored to win. There have been fears of a coup ever since Guinea-Bissau's president died of complications from diabetes in January, leaving an interim leader in charge of the chronically unstable country known for cocaine trafficking.
On Thursday, shooting started after the state radio station signal inexplicably went dead. The whereabouts of the nation's interim president, Raimundo Pereira, was unknown.
A military official, who like the diplomat could not be named because he was not authorized to speak to the media, said that the soldiers had encircled the home of Gomes and were attacking the building with grenades. It was not clear if the premier was at home when the shooting started.
Resident Edmond Ajoye, an employee of a Dutch NGO, said he was around 3 miles (5 kilometers) from his home when the shooting began.
"There was panic. Women were running," he said. "There were rockets being launched, and the soldiers were shooting with guns mounted on their trucks."
"The soldiers took downtown," he continued. "The shooting lasted from 7 p.m. until 9 p.m. They then went from embassy to embassy to make sure that the politicians couldn't seek refuge there."
The violence took even seasoned diplomats by surprise. One official spoke by telephone to The Associated Press from his office.
"I am at the office and I am prevented from leaving," said the diplomat. "The downtown area has been sealed off by the military ... I can also tell you that all Guinea-Bissau radio has been taken off the air since 8 p.m. local time and the whereabouts of the prime minister and interim president are unknown."
Guinea-Bissau has weathered successive coups, attempted coups and a civil war since winning independence from Portugal in 1974. It has been further destabilized by a growing cocaine trade, fueled by traffickers from Latin America who discovered the nation's archipelago of uninhabited islands several years ago. They used the deserted islands to land small, twin-engine planes loaded with drugs, which are then parceled out and carried north for sale in Europe.
The traffickers, according to analysts, have bought off key members of the government and the military, creating a narcostate.
Associated Press.