Assembly Debunks Bribery Allegation Against Pension Probe Committee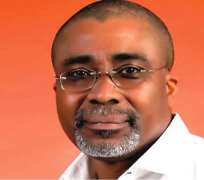 ABUJA, April 12, (THEWILL) - The National Assembly has denied the allegation of bribery levelled against its joint committee investigating the mismanagement of pension funds, branding it as an attempt to mask the sad discoveries made by the committee in the course of the hearings.
It praised itself as a responsible institution that will not demand or accept bribes, and, as such, will resist cheap blackmail and other distractions from the ongoing probe.
Senate spokesman, Enyinnaya Abaribe made the statements in Abuja on Thursday, challenging individuals making the allegations to name those who demanded and received the bribe.
A coalition of civil society groups and the Pension Reform Task team had issued separate press releases on Wednesday, accusing the Senate Joint Committee on Establishment and Public Service Matter, and State and Local Government Affairs of bias and maintaining unhealthy relationships with some of the accused officials in the scam.
Earlier, a former director of the Police Pension Fund, Chief Esai Dangabar who is standing trial over the N32.8b police pension fraud, alleged that certain members of the Assembly's 2009 pension committee benefited from the loot.
But Abaribe, who chairs the Senate Committee on Information and Media and Public Affairs, believes the allegation to be a "desperate ploy" to blackmail the Committee and hoodwink the Nigerian public.
"The allegation that members of the Senate and House of Representatives were bribed to influence the outcome of the ongoing probe of the management of pension funds in Nigeria is a pack of lies with no iota of truth with regards to the 7th Senate," he said. "We suspect that the individual that made the allegation deployed the unfortunate tactic as a desperate ploy to blackmail and hoodwink the Nigerian public as an odious cover in the light of the sad revelations made in the course of the hearings, even when no reports have been turned in."
Abaribe challenged the individual to be "courageous enough" to name those lawmakers that were bribed.
"He should be bold and courageous enough to mention their names to the public, as doing so would help to enshrine probity in our public lives," he argued. "People, especially those handling positions of public trust, should be ready at all times to render honest account of their stewardship when called upon to do so before the relevant institutions and try not to divert attention by making unfounded allegations."