Anxiety As Speakers Conference Elects Chairman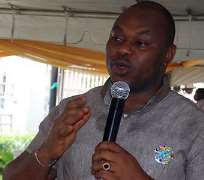 … Delta House Speaker Remains Frontrunner
SAN FRANCISCO, April 12, (THEWILL) – A new Chairman for the Conference of Speakers of State Legislatures of Nigeria will be elected this morning in Abuja.
The 36 Speakers of State Assemblies are expected to converge at the Gwarimpa Secretariat of the conference to elect a leader amongst the four (4) candidates vying for the top job.
The body had repeatedly been unable to elect a leader because its erstwhile Chairman, Rt. Honourable Istafanus Gbana of Taraba State blocked every move to conduct elections at the end of his tenure. Gbana had wanted to continue as Chairman and thus refused to conduct elections even after his tenure was extended by six months. The body however successfully sacked him from office in September last year and put together a caretaker committee headed by the Speaker of Kano State, Rt. Honourable Yusuf Falgore, who was mandated to conduct elections within 3 months.
Falgore was however impeached by his colleagues in Kano before he could perform the assignment.
Just after Falgore's impeachment, the Speakers of Borno, Adamawa and Ebonyi were also removed from office within eight (8) weeks thereby forcing the conference back to the drawing board.
The candidates seeking to occupy the office are the charismatic Speaker of the Delta State House of Assembly, Rt. Honourable Victor Ochei, who is the consensus candidate of the South South zone; Speaker of the Kwara State House, Rt. Honourable Razak Bolaji Atunwa; Gombe State House Speaker, Rt. Honourable Garba Inuwa and Gbana, whose tenure was far below par, having succeeded Rt. Honouble Rotimi Chibuike Amaechi, the present Governor of Rivers State and Chairman of the Nigeria Governors' Forum, who had an impressive outing as pioneer Chairman of the conference.
Under Gbana, the conference failed to achieve its core objectives including actualizing independent funding for state legislatures via the fist line charge just like the National Assembly. He also failed to position the conference as an influential force in national politics.
THEWILL gathered that the Speakers are seeking a candidate that will establish the Speakers Conference as an influential block just like the influential and powerful Nigeria Governors' Forum (NGF). To actualize this, the conference jettisoned its initial zoning formula and threw the race wide open to enable it elect the best leadership. The conference had initially zoned the position to the north.
This move has helped Ochei emerge frontrunner and favourite for the office.
There is however still a cold war between Atunwa, Inuwa and Gbana having failed to reach a compromise that would have seen the north present a consensus candidate for the Chairmanship. The candidates are expected to split the northern votes thereby diminishing the chances of having one of them elected.
The election is scheduled for 10.am.