KALU TASKS FG ON EXPORT BANKS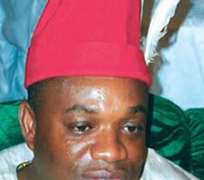 Dr Orji Uzor Kalu
The Federal Government has been charged to allow private establishment of specialized export banks to give loans and other financial support to Nigerian exporters. The Association of Nigeria Products Exporters (ANPE), made this demand at the inaugural Executive Council meeting of the association, yesterday, in Lagos.
The former governor of Abia State, Dr Orji Uzor Kalu, who is the president, Board of Trustees of the association, said there are vast opportunities in the value chain of the export industry, which has a multiplier effect on the nation's economy through job creation, income generation and eventual improvement in standards of living.
Dr. Kalu stated that ANPE was initiated and is committed to the development, promotion, re-engineering and repositioning of the country's export sector, while pledging the association's support to President Goodluck Jonathan's transformation agenda.
In his speech, the Secretary General of the association, Pastor Odiase Omozoje, argued that exporters could only export products at competitive prices in the international market place if funds accessibility are at favorable rates.
According to him, Nigerian exporters especially the small and medium scale, don't have access to such capital, as the high lending rates make it difficult for them to breakeven in their business. He affirmed that only when government strengthens the institutions saddled with the responsibility of providing financial support and other incentives to exporters would cut cost of local production. Omozoje, who decried government's decision to concession the management of ports to private companies, said that it had lost its value.
He explained that congestion at the ports and rudimentary processes have negatively affected the timely movement of consignments out of Nigeria. He called on policy makers to put in place a system that would ensure effective service delivery at the ports.
The secretary general further lamented the dominance of Nigeria export sector by foreigners who exploit local labour and short change Nigerians in terms of access to export schemes put in place by government. He further said out that the cumbersome bureaucratic procedures in export documentation have negative effect in the export industry, stating that it is creating duplication of functions among regulatory agencies, which results in unnecessary delays in documentation of exports.
Meanwhile, as a matter of urgency, Omozoje emphasized on the need for exporters to avoid unhealthy competition to promote synergy that is needed to reposition the export sector of the economy.