5 KILLED IN ANOTHER BOKO HARAM ATTACK IN BORNO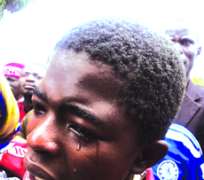 No fewer than five people were killed in Banki, a border town in Borno State, during attacks said to be launched by the Boko Haram Islamist sect.
The police also claimed to have killed five of the attackers.
Daily Sun gathered that the attackers stormed the commercial town of Banki, a small community about 145 kilomtres from Maiduguri, the Borno State capital at about 7pm on Tuesday night. They were said to have launched an offensive against Banki Police Station, immigration and customs outposts, killing three civilians, a policeman and an immigration personnel.
Sources said the attacks, which lasted for about three hours, caused great panic among residents as many were said to have stayed indoors even till the early hours of yesterday. 'It was bad and many of us couldn't sleep throughout the night because of the gunshots. You known anybody could be a target or be hit by stray bullet in such situation,' one of the residents of the area said in a phone conversation.
Spokesman of the Joint Task Force, Lt. Col. Sagir Musa, who confirmed the incident, said the attackers arrived at about 7pm. 'They shot sporadically to cause panic before moving to the police station, immigration and customs outposts. They burnt the customs and immigration outposts but attempts to raze down the police station were repelled by the police. Unconfirmed numbers of vehicles were damaged,' he disclosed. He also confirmed that a policeman, immigration personnel and three civilians were killed in the attack, adding that normalcy had been restored in the area.
But the Police Public Relations Officer (PPRO), Samuel Tizhe, in his account said the gunmen came at about 6.30pm in different vehicles, saying, 'the police engaged them in battle for over three hours until reinforcement of the Special Anti Robbery Squad (SARS) operatives sent from Maiduguri and the Police Mobile Force (MPF) personnel drafted from Bama arrived the scene. The attack was foiled despite resort to use of IEDs.'
Tizhe also said five of the attackers were killed by the police while two policemen were equally injured.
He also disclosed that two Improvised Explosive Devices (IEDs), two AK47 rifles with 51 rounds of ammunition and one of the vehicles used by the sect were recovered. He said the area had been condoned off, adding that mob up operation was going on there.