Omoboriowo, Former Ondo Deputy Governor, Is dead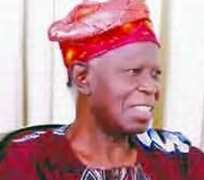 SAN FRANCISCO, April 11, (THEWILL) - Eighty-one-year-old onetime deputy governor of the old Ondo State, Chief Akin Omoboriowo, has died of complications arising from prostate cancer.
An astute lawyer and politician in his days, Omoboriowo was elected in October 1979 as deputy governor of the south-western state on the ticket of late Chief Obafemi Awolowo's United Party of Nigeria (UPN), alongside the late Chief Michael Adekunle Ajasin (who has since had a university named after him), as governor.
But the duo soon fell out, beginning ostensibly from when the former claimed to have been the better candidate for governorship, having supposedly earned more votes than his boss at the party primaries. The acme of the sour relationship was the refusal of Governor Ajasin to swear his deputy in as governor during a lengthy trip away from the state.
By 1983, an assured Omoboriowo jettisoned the UPN for the National Party of Nigeria (NPN), on which platform he contested the year's governorship election against his erstwhile boss. Results declared by the Federal Electoral Commission on August 16 named Omoboriowo the victor, but an electoral Court of Appeal upturned it before he took oath of office, instead reinstating Ajasin as governor.
He was to later have little to worry with on the court ruling, as a coup d'etat on December 31, 1983 enthroning General Muhammadu Buhari as Commander-in-Chief of the Federal Armed Forces forced all political office holders, including Ajasin, out of office. Both men were arrested, and Omoboriowo was released four months after without charge.
Of his incarceration, he later, in a move adjudged by the public to have offered undeserving justification to Buhari's widely condemned act, said, "It was to instill a sense of responsibility in leaders. Although, I committed no offence, I was a player in the politics of the Second Republic; so I was left there because the Federal agencies tried us and they said I committed no crime and I was released from Kirikiri prison under 30 days."
In the years to come, the late he was appointed Pro-chancellor and Chairman of the Governing Council of the University of Ado-Ekiti (UNAD). Until his death, Omoboriowo, who is survived by a wife, five children and many grand children, was chairman of an Abuja-based electric company, and only relocated to his native Ekiti at the turn of the current year.