Embattled Sylva Says Not On The Run; Not A Fugitive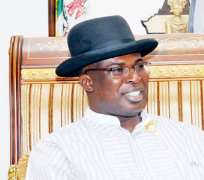 SAN FRANCISCO, April 10, (THEWILL) – Embattled erstwhile Governor of Bayelsa State, Chief Timipre Sylva has said he is neither on the run nor is he a fugitive from justice.
Sylva has not been seen in public since a Supreme Court ruling brought his tenure to an abrupt end late last year. He is believed to have relocated to Brazil in order to evade arrest and prosecution for alleged graft and misappropriation of state funds.
Brazil has no extradition treaty with Nigeria.

The Economic and Financial Crimes Commission (EFCC) has accused Sylva of stealing and misappropriating approximately N6.5 billion during his four-year tenure. The agency in February formally indicted and charged him on a 6-count charge before a Federal High Court in Abuja.
However a statement from his media aide, Doifie Ola, said the former governor has been "keeping a low profile because he does not want his security to be compromised."
The full text of the statement titled "Sylva Is Not On The Run" read: "With respect to insinuations in sections of the media on the whereabouts of Chief Timipre Sylva, especially since the Abuja High Court granted the Economic and Financial Crimes Commission (EFCC) leave to paste its summons on the gate of his Abuja residence, we wish to clarify that Sylva is not on the run. He is not a fugitive from justice. Since 27 January when the Supreme Court removed him as Governor of Bayelsa State, Sylva has been a private citizen. As a private citizen, he has the right to move freely to wherever he wishes. It is surprising how his whereabouts has become a subject of conjecture and controversy.
Sylva is a firm believer in the law and has been at the forefront of efforts to etch respect for law, rules and regulations on the national conscience.
"To set the record straight, Sylva has decided to keep a low profile because he does not want his security to be compromised. The whole world has been living witness to the brazen disrespect for our laws which those charged with the maintenance of law and order in the land have exhibited since the outbreak of their riotous governorship adventure in Bayelsa State. If those we all should rely on for our security could so blatantly run riot on our laws and liberties, it is not hard to determine the extent they can go against the one they have openly declared the target of all their illicit manoeuvres in the state.
"The charges brought against Sylva by EFCC are not new. They are charges for which some former and serving officials of the Bayelsa State Government have already been standing trial since April 2010. What the EFCC has done is to simply add Sylva's name. Specifically, the suit brought against Sylva by the EFCC involves N2.45 billion Bayelsa State funds, not N6.450 billion as a section of the media has reported. This is because charges one, five and six refer to the same money. This is government money used for government business. Since 2010 when the matter went to court, no evidence has been produced by the prosecution to support the claim of money laundering and other financial crimes against any of the defendants.
"The last time we checked, no agency of the law has extended any invitation to Sylva, which he did not honour. As far as we know, he has not been declared wanted by any authority, local or international.
"Sylva is a believer and advocate of the rule of law. He is, as usual, undaunted and will face the current onslaught squarely. Sylva will take the necessary legal steps to discharge the present canards. We are happy that the Abuja High Court has fixed 8 May 2012 for Sylva to have his day in court. Our laws are clear that any accused person is innocent until proved guilty."