Syria Violence Endangers Annan's Ceasefire Deadline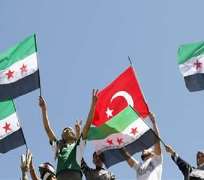 Syrian troops killed 31 people on Tuesday, pursuing a fierce assault on President Bashar al-Assad's opponents instead of silencing their big guns and leaving towns as promised under a fraying international peace plan.
The worst bloodshed was in the city of Homs, where shelling of opposition districts killed at least 26, activists said. Opposition groups said there was no sign of a military pullout, with tanks still in cities such as Homs and Hama.
Citing satellite images, a French foreign ministry spokesman endorsed that view and denounced a Syrian assurance that troops were, in fact, withdrawing as a "blatant lie".
Nor did rebels immediately stop shooting. The anti-Assad Syrian Observatory for Human Rights said insurgents killed six soldiers in attacks on checkpoints on an eastern desert road.
As the end-of-day deadline loomed for Damascus to implement the ceasefire plan, Syrian Foreign Minister Walid al-Moualem demanded guarantees from its author, U.N.-Arab League envoy Kofi Annan, that armed insurgents would also honor any truce.
"We will not ask the terrorist groups, which are killing, kidnapping and destroying infrastructure, for guarantees. We want Annan to give us these guarantees," Moualem said in Moscow.
The last-minute demand, a variant of one Syria made at the weekend, is not mentioned in Annan's proposals and looks designed to complicate his struggle to get all parties to comply with a six-point plan that is so far largely a dead letter.
The rebel Free Syrian Army will fight on if Assad fails to withdraw troops and tanks from in and around cities as required, a spokesman, Colonel Qassem Saad al-Deen, told Reuters.
The opposition Syrian National Council said a partial ceasefire was unacceptable and government forces should stop all violence on Tuesday. Its spokeswoman, Basma Kodmani, also told a news conference in Geneva that arrests, house demolitions and shelling by tanks and anti-aircraft guns were continuing.
The Local Coordination Committees, a grassroots activist group, said Assad's "corrupt criminal regime" was only trying to buy time to impose its will by force, and chided the United Nations and Arab League for failing to restrain Damascus.
ASSAD'S FRIENDS
China, which along with Russia has blocked punitive U.N. Security Council action against Syria, said it hoped all sides would immediately obey a U.N.-backed ceasefire aimed at stopping a 13-month uprising from sliding into full-scale civil war.
Moscow and Beijing have both supported Annan's plan, which diplomats say still gives Assad until midnight in Syria (2100 GMT) to start withdrawing troops from urban areas.
Extra conditions set by Damascus have fuelled widespread doubts that the deadline for a full truce to start by 6 a.m. (0300 GMT) on Thursday, April 12, would be respected.
Syrian government media curbs make it hard to assess conflicting reports from inside Syria.
Russian Foreign Minister Sergei Lavrov said he had told Moualem that Syria could be "more active, more decisive" in meeting the terms of Annan's plan, but he also urged foreign states to lean on opposition groups to stop shooting forthwith.
Moualem said some troops had already pulled back from cities in line with the peace plan, but he tied a full ceasefire to the entry of foreign monitors, another apparently new condition.
"An end of violence must be simultaneous with the arrival of the international observers," he said, adding that Syria wants a say in how the ceasefire monitoring team is composed.
The U.N. peacekeeping department sent an advance team to Damascus last week to discuss how to carry out Annan's plan for "an effective United Nations supervision mechanism".
An Arab League monitoring effort collapsed in January as intensifying violence made a mockery of an Arab ceasefire plan.
Assad's forces have killed more than 9,000 people in the past year, according to a U.N. estimate. Damascus says rebels have killed more than 2,500 soldiers and security personnel.
TURKISH ANGER
The violence has alarmed Syria's neighbors, especially Turkey which already hosts almost 25,000 Syrian refugees. At least five people, including two Turkish citizens, were wounded by cross-border fire into a refugee camp in Turkey on Monday.
Turkish Prime Minister Tayyip Erdogan accused Assad of personal responsibility for killing civilians and threatened an unspecified response to the cross-border shooting.
"He is continuing to kill 60, 70, 80, 100 every day," Erdogan said during a visit to Beijing. Assad's troops were "mercilessly" shooting fleeing women and children in the back.
NATO member Turkey has floated the option of carving out a "buffer zone" inside Syria to protect civilians, providing the U.N. Security Council authorized a move that could set up a confrontation between Assad's forces and the Turkish military.
Another neighbor, Lebanon, condemned the killing of a local journalist by Syrian soldiers firing over the border on Monday.
Annan himself was due to visit refugee camps in Turkey, near the border, on Tuesday. His deputy was to brief the U.N. Security Council by videolink on the fate of the peace plan.
Failure to end the violence would highlight the diplomatic stalemate pitting Assad's Western and Arab critics against his friends in Russia, China and Iran. They all call for calm but differ sharply on how to achieve this or on any political transition that could satisfy the antagonists in Syria.
REUTERS