Amnesty Office, NDCF Unite For Region's Development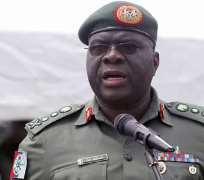 SAN FRANCISCO, April 09, (THEWILL) - As part of efforts to sustain the success of the federal government's amnesty programme for the Niger Delta region, stakeholders (comprising leaders of thought and experts from the Diaspora) met at the weekend in Lagos to critically appraise the project and expedite its completion.
The Niger Delta stakeholders Summit, which was convened by the Special Adviser to the President on Niger Delta Matters, Kingsley Kuku, and the Niger Delta Consultative Forum, provided another platform for intellectuals, administrators and other stakeholders on the project to examine ways of employing the amnesty programme and other related efforts to accelerate socio-economic development of the region.
Setting the tone for the programme, the National Security Adviser (NSA), General Andrew Owoeye Azazi (rtd.), who was guest of honour, urged people of the region and indeed all Nigerians, to contribute their quota to any initiative that will enhance peace and socio-economic development.
"It is important that at a time like this when the country is grappling with a litany of challenges, Nigerians should remain resolute to keep the country together in an atmosphere of peace and development," he said. "It is gratifying to note that despite the signals emanating from the country, some Ijaws in the Diaspora have thought it fit to work together with brilliant ideas to seek practical solutions to the problems of the country."
Welcoming the stakeholders, Kingsley Kuku explained that the conference is relevant because collective input gathering and analysis of the challenges of the region remains one of the cardinal strategies to forge peace and development for the country.
"Discussions at last year's conference gave rise to the renewed vigour of the amnesty programme in training delegates in formal education as well as vocational and entrepreneurial skills, which has changed the face of the programme," he said. "There is no better time to talk about the issues of development of the region than now when the amnesty programme has brought peace and stability to the economy, thereby increasing the daily crude oil export."
He also revealed that the carrying of arms is no longer the prerequisite for enlistment in the youth empowerment programme packaged by the amnesty office, as the region could now boast of its indigenes undergoing several educational programmes in universities spread across the world, with the placing of more than 12,000 out of the 26, 358 youths who renounced violence in educational institutions in 23 countries.
Present at the two-day summit were Lady Angio Briggs, Alhaji Mujaheed Dokubo-Asari and prominent Ijaw professionals from the United Kingdom and the United States of America.