CHURCH DONATION: ACN IS OVERHEATING POLITY -BEN OBI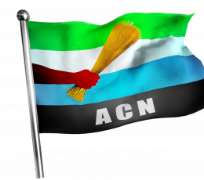 Special adviser to the President on Inter-Party Relations, Senator Ben Ndi Obi has described the position of the Action Congress of Nigeria (ACN) on the church renovated in President Goodluck Jonathan's village by a construction company working for government as a distraction.
Obi said the opposition party was only trying to over-heat the polity by going to the extent of calling for the impeachment of the president.
He said: 'For me, it is working up the system, better put, overheating the polity.
A matter that has to do with the house of worship is not an issue I would want or I would advise even our political opponents to raise to the roof top. A house of worship cannot be what can be enticing, least of all to Mr. President. I think the opposition party in question seems to have gone far beyond the ordinary when they say the president should be impeached.'
Politicians, he said, should differentiate politicking from governance and know when to play politics and when to cooperate for the development of the country.'There are serious matters of national discourse that should engage the minds and souls of Nigerians and I have always champion the cause that there is a time to politick and there is a time to govern. For God's sake, when the time to politick comes, it will be understandable; this time is for all hands to be on deck.
There are great challenges to us as a people, as a country that calls for maximum cooporation and understanding.
'I know the ACN, I've been a member of the ACN from inception and I know that when things like this happen, it offers them an opportunity to hit at the ruling party. But you don't just hit at them for the sake of hiting, I think we must understand that the office of the president must be given due respect.
'It is not an office that you must bring into challenge at all times, more so, when this challenge is not anything to worry about. This can only be for me a distraction.'So, I want to plead with my friends in the opposition that the time will come when they will have a field day to say whatever they want to say, do whatever they want to do, people will understand that, well, in politics, everything goes, but this one no.
I think let us go back to the drawing board and see how we can better the Nigerian situation, rather than shooting at all corners.