SUICIDE BOMBER KILLS 40 IN KADUNA, INJURES 20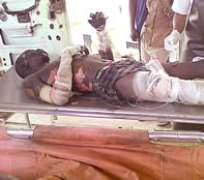 A victim of the Kaduna Easter bomb explosion
No fewer than 40 persons were yesterday bombed to death in Kaduna metropolis, just as over 20 persons were also injured by the blast at about 10 am. However, Kaduna State Public Relations Officer (PRO) of the State Emergency Management Agency (SEMA), Abubakar Zakari Adamu, confirmed that 36 persons were killed and 13 injured in the blast.
Kaduna State Police Commissioner, Abubakar Mohammed Jingiri, described the blast as massive, adding that according to intelligence report, the bomber was heading to Kakuri and Sabon Tasha area, all in the southern part of the state, when the bomb went off at the Junction/Sardauna Crescent areas.
The police boss appealed to the residents of the state to be patient and go about their lawful businesses.
The bomb blast, which was said to have been executed by a suicide bomber took place between Ahmadu Bello Stadium Roundabout and Sardauna Crescent Bus Stop, along Junction Road, a highly populated commercial and residential area of the metropolis. A visit to the scene of the blast by Daily Sun showed scores of buildings, including hotels, churches, vehicles and bank within the area had their windows and doors shattered.
It was also gathered that scores of Okada riders (commercial motorcyclists), who usually park at the Sardauna Crescent Bus Stop to pick passengers, tea and bread sellers, cake bakers as well as passersby were bombed to death instantly.
According to a security man, called Francis, at the ECWA Good News Church along Gwari Road behind Junction Road, the suicide bomber had attempted to force his way into the church with a car (Honda Academy, ash colour) with registration number BB 111DKA, but was quickly turned back by church security men.
Few minutes after the bomber was turned back, the security man added, there was a loud sound of explosion on Junction Road. He recalled that the bomber had Army uniform in his car, claiming to be an officer. The Director General, National Emergency Agency, Mohammed Sani Sidi, who visited some hospitals in the city, said the agency would foot the bills of the injured ones in the hospital, but said the agency would not compensate those whose property were damaged.
SEMA PRO, Adamu said: 'We have seven persons at Rakiya Memorial Hospital, out of whom five died while the remaining two were transferred to 44 Army Reference Hospital. We have 20 people who were seriously injured at the Army Reference Hospital. 10 people were taken to St Gerald Hospital out of which five died while the remaining five were seriously injured. 11 people were taken to Barau Dikko Hospital, out of which six died and seven were injured. 20 people died on the spot.'
The Senator, representing Kaduna Central Senatorial District, Major General Mohammed Saleh, who visited the scene of the explosion described it as a national disaster, adding that it could be as a result of political grievances.
He said: 'The security agencies have to go back and do a post-mortem and find out why it happened so that we can improve on our response and capability.
'At a time like this, we have to re-assess our response to security situation as we go along. I am aware that before Easter, there was a massive security leakage because it was expected that something like this is likely to happen and certain measures were put in place, yet it happened.'Left to me, this is a war situation and in war situation, you use all the instruments of your national power to fight it.'
The security man attached to the ECWA Good News Church, Gwari Road, Mr. Francis Markus said: 'It was at about 10 am when I saw a man coming to this street, and said he wanted to pass. Then I told him that he cannot pass because church service was going on, we don't normally allow people to pass when service is going on because of insecurity. I advised him to pass after the church service, but he insisted that he was going to his house.
'Then I said which of the house are you talking about? He pointed at a storey building, which I know so many people in the house, and for him, I don't recognize his face because I work here every Sunday. I don't recognize his face. I stopped him from passing through the street, but he pointed at another house, saying that that was where he was going. He came through Arochukwu Road at about 9.45am. He drove in Honda Academy ash colour. I told him he could not pass through here. He accused me saying that I am violating his right for not allowing him to go to his house. I asked him to wait till after church service before he could pass, but he insisted that he must pass.
'We dragged this for some minutes. He entered the car and drove towards me. Yet, I stood my ground and held the iron we used for the roadblock, he hit the iron against me. Luckily enough, one of my church members came and intervened. At this point, we noticed that the man was carrying Army uniform on the back seat of his car also with an Army cap behind the windscreen. I asked him if he was a soldier.
'At this point again, I politely told him to move his vehicle and go. As we were talking, the policemen who were posted to the church saw what was happening between the man and I and they came closer and helped me to drive the man away. But within two to three minutes, we heard the sound of an explosion across the road, along Junction Road. The man should be between 35 and 40 years of age, he was a young man, he was wearing a vest, T-shirt vest on combat shorts.'
Another eyewitness, Pastor Joshua Raji of All Nations Christian Assembly said: 'We were in the Holy Communion service and I was exhorting my people, and all of a sudden, we heard a loud noise that shattered all our windows and doors, destroyed our fans and some of our equipment in the church. All my members were initially perplexed but in the long run, we saw the handwork of God, all the members were saved. No single person sustained any injury. But all our property was destroyed.
Management Consultant, Fina White House Hotel, Julius Achaolu said: 'This bomb blast is horrible. This is terrible, It is unbelievable, this is indescribable, and the damages are colossal. My happiness is that at the time it happened there was only a single guest in the room. You can see the room he was staying; it is only God that can bring somebody alive from that kind of ruin. It was a terrible ruin. In fact, God did it that the guest came out unhurt. And he checked out immediately.
'In all our hotels, we have put a lot of security measures in place, we don't allow you to park your car in front of our hotel except you are our guest. And as you are parking, our security men will be there to welcome you and check your car. And as you are entering into the room, we ask the security man to check your bag, your body, everywhere before you are allowed to enter the room.
'This particular incident was not caused by a guest or a visitor to the room. It only happened because the car was passing on the road and there was no way we can be checking every vehicle that passes on government road. There is enough security in all our hotels. The value of this damage is in millions of naira. In fact, all we can say now is that it is in millions of naira, you can see that the walls are cracked, all the ceilings are gone, everything, every equipment in the rooms are all scattered. So until we are able to get professionals to come and check the destruction we won't be able to tell you the exact figures of the damage. But from what you can see, it is colossal.'
Two survivors, Augustine Vincent and Aaron Idiawaje, in their accounts, said: 'It is the blood of Jesus that saved us. This is to show that truly Jesus Christ resurrected and that is why we are saved today. We were on our way to the church on motorcycle, passing through Junction Road where the bomb blast took place. Our church is Christ Embassy along Kachia Road, and God saw our hearts and saved us.
Another survivor, who simply gave his name as Tunde said: 'I was driving along Junction Road, the scene of the incident with two other occupants in my car when suddenly I heard a loud sound of explosion that almost defeaned me. So when I look ahead, I saw smoke all over the place while fire was coming out from under my car.
'The man on the back seat, who was my mechanic was nowhere to be found, even when I called his mobile phone, it was switched off, and so my fear was that he might have died as a result of the explosion. In fact, I don't know how to thank God for surviving this bomb blast.'