Kaduna Easter Blast Toll Nears 40: ACF Condemns Attack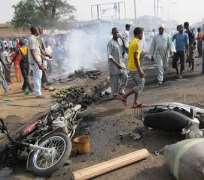 KADUNA, April 08, (THEWILL) – The Death toll in the blast following the Easter Sunday bombing that occurred at Sardauna Crescent in Kaduna township according to latest reports, is already nearing 40.
The blast occurred near churches, hotels and residential buildings. Kaduna is almost evenly divided amongst Christians and Muslims, who live in the South and North of the state respectively.
No group has claimed responsibility for the attack even though the deadly terrorist group Boko Haram had claimed responsibility for several similar attacks targeting Christian worship sites.
Addressing newsmen on Sunday afternoon, Public Relations Officer of the Kaduna State Emergency Management Agency (SEMA), Abubakar Zakari Adamu, informed journalists that about 38 people had been confirmed dead while at least another 13 were seriously injured and receiving treatment in various hospitals across the city.
"We took seven persons to Rakiya Memorial Hospital, out of which five have died while the remaining two have been transferred to 44 Army Reference Hospital, where about 20 others have been taken. At the St Gerald Hospital, out of the 10 people taken there, five died while the remaining five are receiving treatment," he confirmed.
"At Barau Dikko Hospital, we have six dead bodies with six others injured; while about 20 people died on the spot. In all, we have about 36 dead bodies while 13 others are seriously injured."
But a Red Cross official who spoke anonymously suggested that the casualty figure could rise, as security agents and other emergency workers have equally been involved in the business of evacuating dead bodies from the scene.
At least six vehicles and about 60 buildings, including two popular hotels —Fina White House Hotel and Marhaba Hotel — scores of residences and the All Nations Christian Assembly located along Gwari Road were devastated by the blast.
ACF Statement on Kaduna Bombings

The Arewa Consultative Forum, a foremost northern group has condemned Sunday's bombing saying it is "unconscionable and so condemnable".
In a statement by its National Publicity Secretary, Anthony N.Z. Sani, the ACF said, "The news of bomb explosions in Kaduna which claimed many lives and destroyed properties today suggest some people are determined to undermine the needed peaceful coexistence and national security. This is unconscionable and so condemnable. Few things are less pleasing to God when innocent people are killed in the name of God.
"Yes ACF asks Nigerians not to be discouraged by the spate of bomb explosions. Rather; they should regard the challenges by the insecurity as a collective responsibility by living up the collective challenges.
"ACF therefore condemns the bomb explosions and condoles those who lost lives and properties, as well as pray for the repose of the souls of those who died.
"May He make it possible for replacements many folds."