Akwa Ibom: Seven Die In Post- PDP Councillorship Primaries Violence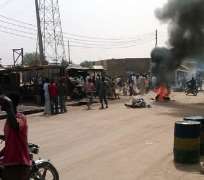 AKWA IBOM, April 06, (THEWILL) - Friday's councillorship primaries of the Peoples Democratic Party (PDP) in Akwa Ibom State ended tragically with spasms of bloodletting that gulped the lives of at least seven people.
In Oruk Anam Local Government Area, one of the aides of Hon. Udo Kerian Akpan, the deputy speaker of the state House of Assembly, had attempted to cart away election materials but he was hotly pursued by other delegates. Reports had it that he had reached a waiting vehicle with the materials and in the process of driving off crushed to death six persons who were trying to obstruct him. Angry delegates descended on him and lynched him immediately.
Also in Urueffong/Oruko LGA, a female aspirant, Mrs. Ikwo Nkereuwem narrowly escaped being kidnapped by unknown gangsters suspected to be thugs of her opponents, having emerged candidate of the party in ward six of the council area.
An eye witness told THEWILL that Ikwo was attacked at the Government Primary School, Mbukpu Uko Akai, venue of the ward primaries after she polled 714 votes —the highest number of votes — despite being the only woman in the race. Other three aspirants scored 516, 105 and 75 votes respectively.
According to the same source, one of the thugs fired at the victim but missed his target, and the stray bullet hit a certain Victor Uwak in the right hand. The crowd scuttled for safety at the sound of gunshots, thereby gifting the hoodlum the opportunity to drag Ikwo into a waiting 504 Peugeot car.
Narrating her ordeal, Ikwo said that as soon as the car zoomed off, the driver called an unknown person whom he referred to as "oga," telling him that the operation had been successful. But she regained her freedom when a team of Operation Thunder security formation, led by Inspector Nse Ndunofit, accosted the vehicle at Edok Oruko.
Reports also revealed that more than 20 persons who were seriously injured in Ika LGA, following a gun battle between two rival political groups, are receiving treatment in undisclosed hospitals in the state. Similar incidents were reported in many other wards in the state.
Friday's development has heightened fears of violence when local government chairmanship primaries hold on Saturday, April 7. Already, there are reports of heated disagreements and protests in most council areas, where party members are insisting on electing their candidates rather than succumb to the imposition of candidates on them by those who regard themselves as party leaders.