Governors Demand 42% Revenue Allocation; Seek To Control State Security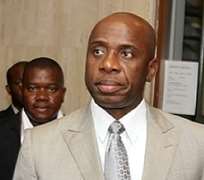 … Declares FG's Subsidy Deductions From Federal Account Unconstitutional
SAN FRANCISCO, April 05, (THEWILL) – Nigerian powerful and influential State Governors Thursday night insisted on a revenue sharing formula that will see states take 42% of the total revenue grossed by the federal government.
The governors in the meeting also attended by the National Security Adviser, NSA, General Andrew Owoye Azazi also reiterated the call for state governors to effectively take control of the police and security formations in their states to enable them "perform their role as Chief Security Officers..."
The Nigeria Governors Forum (NGF), which met in Abuja in a communiqué signed by Chairman and Rivers State Governor, Rt. Honourable Chibuike Amaechi said, "The Forum deliberated extensively on the continuing unconstitutional deductions by the Federal Government from the Federation Account in the name of oil subsidy which negates the principles of federalism and budgetary provisions. It noted that despite the increase in pump price of petrol, the quantum of subsidy deduction is still worrisome. The Forum, accordingly constituted a Committee to meet with Mr. President.
"Following briefing by the National Security Adviser, the Forum reiterated the need for closer cooperation between the States and Federal Government in addressing security challenges, noting also the necessity for increased empowerment of the State Governors to perform their role as Chief Security Officers in their respective States;
"The Forum considered the current revenue allocation formula of the country and reiterated its commitment to its earlier report that proposed, among others, the following revenue allocation formula: Federal 35%, State 42%, & Local Government 23%;
"Noting the urgency of the need to completely eradicate polio from Nigeria, which remains among the last three polio endemic countries in the world along with Afghanistan and Pakistan, the Forum renewed its commitment to a holistic approach to polio eradication. It specifically agreed that for maximum effect, Deputy Governors should take charge of State Task Force on polio eradication;
"After listening to a comprehensive presentation on Tax Matters, with particular focus on the unique Tax Identification Number, the Personal Income Tax (Amendment) Act, 2011 and other actions designed to increase revenue at the State level by Mrs. Ifueko Omoigui Okauru, the Executive Chairman of Federal Inland Revenue Service (FIRS) and Joint Tax Board (JTB), the Forum thanked her and commended Mrs. Okauru's exemplary and distinguished service to the nation, wishing her the best in her future endeavours."