Judge Orders Beating, Detention Of Journalists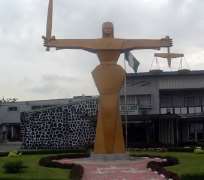 LAGOS, April 05, (THEWILL) – More than a dozen Lagos journalists trying to cover a court hearing were on Wednesday arrested, beaten and briefly detained on the orders of a magistrate judge for flouting her prohibition of media coverage of proceedings in her court.
The journalists include Adewale Busari, Sliverbird; Wahab Abdulah, Vanguard; Francis Iwuchukwu, Peoples Daily; Henry Ojeluh, PM News/The News Magazine; Yejide Gbenga-Ogundare, Nigerian Tribune; and Solomon Asowata, News Agency of Nigeria; Akinwale Akintunde, Thisday; and Yetunde Ayobami-Ojo, The Guardian. Others are Nurudeen Oyewole, Daily Trust; Shola Shoyele, Channels Television; Gbenga Shoyele, Nigerian Compass; Ranti Thomas, The Moment Newspapers; Bisi Onanuga, The Nation; and Yemi Adebanjo of News Star Newspapers.
They were in court to report a coroner's inquest into the deaths of more than 20 people, which occurred in August 2010 in a multiple car crash and explosion. Eyewitnesses had attributed the tragedy to an illegally mounted police checkpoint where officers had been extorting money from motorists.
No sooner had the reporters arrived the hearing than the magistrate judge, A. A. Oshoniyi, came out of her office to order the arrest of the journalists by the Police. "Do you know where you are at all? Oya, arrest them all. Go and lock up all of them!" she was reported to have said.
Policemen beat the journalists while enforcing the arrest, and eventually locked them in a police station. They were later released.
President of the Nigeria Union of Journalists, Mohammed Garba, has already condemned the incident, with a promise that union officials would immediately petition the judiciary for appropriate sanctions on the judge.
"They were brutalised and assaulted by the Police on the order of the magistrate court judge," he said. "This is not the first time we're experiencing such an unfortunate incident."