ALL HAIL PHILOMENA KWAO- BRILLIANT GHANAIAN SETS TO RULE BRITAIN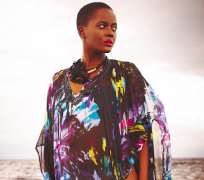 She's just 22 and a self-confessed geek. She recently beat thousands of other contestants to emerge as the main deal in a modeling competition. She hopes to become Britain's 1st Black plus size model. The size 16 Briton from Dartford, Kent is of Ghanaian heritage like the name suggests.
She was one of the 5 to make it through to the final of the modeling contest, and she has now been signed on by a new division of Model 1, which is the same agency that represented one of the world's 100 most influential fashion icons- TWIGGY, the great Chameleon- Linda Evangelista & Yasmin Le Bon.
Philomena was a former Miss Ghana UK 2008, prior to her foray into fashion. A graduate of Bristol University, with a first class degree in Economics, she's currently studying for her Master's degree in International Health Management at the Imperial College, London. She would be done with her Masters in September of 2012. Her full shoot is in the May Edition of Cosmopolitan Magazine that has Kim Kardashian on the cover.