Suspected Boko Haram Adherents Gun Down Seven Christian Traders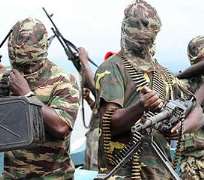 BORNO, April 04, (THEWILL) - Gunmen suspected to be members of the Boko Haram terror group on Wednesday killed seven Christian traders at the popular Monday Market in Maiduguri, Borno State.
The Islamists arrived at the market, the biggest in the state, at about 2pm, and headed straight to the section occupied by Christian Igbo merchants, who were busy displaying their wares and trying to attract customers.
According to an eyewitness, the gangsters opened fire at eight people, all of whom immediately died. All seven were reported to be Christians. The eight trader, simply identified as Taju, was the only Muslim.
A police official who spoke anonymously to THEWILL confirmed the killings. "Seven Christians were shot dead," he said. "The only Muslim who died is Taju by name; he works as a television and radio technician. So, eight people died in all."
In a telephone interview with THEWILL, spokesman of the Police in Borno State, Samuel Tizhe also confirmed the incident.
"I can confirm to you that seven traders were shot dead today by gunmen suspected to be members of the boko haram. Three other civilians also sustained injury during the attack at Monday Market," he said. "The situation is now calm, as we have reinforced security in and around the state."