Senate Unworried About Delayed Presidential Assent To 2012 Budget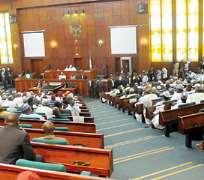 ABUJA, April 04, (THEWILL) - Despite not receiving assent of President Goodluck Jonathan more than two weeks after it was passed, the Senate has given assurances of the due signing of the 2012 budget.
Chairman, Senate Committee on Rules and Business, Senator Ita Enang gave the reassurance in Abuja on Wednesday during a press conference to discuss the statuses of bills and other legislative documents.
Discouraging the public from needless apprehension over the delay in the signing of the budget, Enang reminded the country of the existence of a 30-day period of grace for the president to endorse the budget.
"The president is entitled to 30 days to examine the budget and sign," he said. "He is still within the time limit, so there is no anxiety over the budget at all."
Finance Minister and Coordinating Minister of the Economy, Dr. (Mrs.) Ngozi Okonjo-Iweala had explained on Tuesday that the Presidency was closely examining the bill as passed by the National Assembly, and the assent would be granted as soon as the process is completed.
Speaking on other bills, Chairman Enang disclosed that a total of 53 bills, comprising 15 executive bills and 20 private member bills, have been introduced and read for the first time from January 9, 2012, when the Senate resumed plenary till date.
He also spoke on the pending motion in the Senate, seeking to canvass support of the Upper Chamber for Okonjo-Iwela's World Bank presidential bid.
"There is no doubt that the Senate is happy with what the minister is doing in the country," he said. "So, the motion is very important. Nigerians can predict the outcome of the motion because we are behind her."