Robbers Injure Policeman, Set Suspects Free In Prison Attack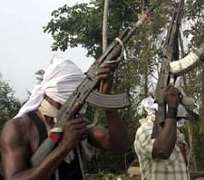 ANAMBRA, April 04, (THEWILL) - Still smarting from the loss of four of its men who were gunned down less than 24 hours ago by armed robbers in the State, the Anambra State Police Command again suffered another attack on Wednesday morning when bandits, numbering about seven, assailed a police station in Amichi, Nnewi South Council area.
Seeing a policeman shot dead, others took to their heels, leaving the hoodlums with all the time in the world to free suspected criminals being held at the station and steal 14 AK47 Riffles and rounds of ammunitions from the gunroom.
A resident who witnessed the raid said that the gangsters launched the attack at about 2.30am on Wednesday morning, opening fire on the police station and injuring one of the men on duty while others escaped.
"The robbers had all the time to ransack the police station after they had released the men in the police cell and broken into the storehouse of weapons," he said. "The heavy sound of gun shots woke the entire neighbourhood, and the shooting lasted for about two hours until they drove away without resistance."
As at the time of filing this report, Emeka Chukwuemeka, the public relations officer of the Police in Anambra had yet to confirm the development.