Analysis: Syria Peace Plan Seen Buying Assad Time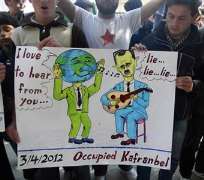 President Bashar al-Assad's acceptance of a plan that puts the onus on rebels as well as the Syrian army to end more than a year of bloodshed may buy him time and, at least temporarily, reduce world pressure against him.
Syria has pledged to withdraw all military units from towns by April 10 to pave the way for a ceasefire, brokered by U.N.-Arab League envoy Kofi Annan, with armed rebels two days later.
But by calling on the insurgents to stop fighting too, the deal provides a get-out clause for Assad. If attacks on his forces continue, the president will be able to claim his troops have been forced to respond to an armed insurgency.
"The peace plan ... suits the regime perfectly," said Rime Allaf, an associate fellow and Syria expert at London's Chatham House think-tank.
"Kofi Annan gave the regime a chance to shift the blame. (Assad) now doesn't have to worry about pressure and has bought time," said Allaf, describing the plan as a reworked version of a failed Arab League initiative but places more responsibility on the disparate rebels to stop shooting.
In November Assad accepted the League plan which called for him to withdraw forces from urban centers. But he has since sent the army into town after town to crush armed and unarmed opponents. Syrian dissidents and Western governments doubt that the Syrian leader really intends to implement Annan's proposals.
Washington's U.N. Ambassador Susan Rice, president of the 15-nation Security Council this month, said on Monday some council members had expressed "skepticism about the bona fides of the government in this regard".
Chris Phillips, a Middle East analyst at the University of London, said Assad was "highly unlikely" to implement the plan.
"It rests on both sides. The armed opposition are unlikely to disarm and the regime can continue to be violent while also saying they are making efforts," he said. "Syria has clearly decided to tackle the uprising using a military solution. There has not been enough pressure to change that."
Since the outbreak of the uprising against Assad in March 2011, Syria has blamed the unrest on foreign-backed terrorists determined to use violence to destabilize the government.
OPPOSITION DOUBTS
While Assad may have won breathing space, Annan's proposals did win crucial backing from Russia which endorsed the April 10 deadline and said Assad's government should take the first step towards a ceasefire.
If Annan reports to the U.N. Security Council that Syria has failed to comply with the deadline and urges it to pass a resolution to pressure Damascus implement his plan, it would be difficult for Russia to ignore such a request.
Syrian opposition figures have made it clear they are not convinced that Assad would keep his word, citing the army's continued bombardment of pro-opposition areas this week.
Damascus-based opposition activist Mortadha al-Rashid said the deal would have no impact. "What is happening outside Syria has nothing to do with what is happening inside Syria," he said.
"Where are Kofi Annan's words? Because we have never seen them on the streets."
Assad has already crushed opposition bastions across Syria and seen the Arab League drop calls for him to go, a softening of tone echoed in Annan's plan.
He can also take comfort from disunity among his opponents, whose exiled leaders often seem at odds with grass-roots activists inside Syria. The Syrian National Council has yet to win full Arab and Western recognition, partly because of concerns about Muslim Brotherhood influence in the exile group.
Randa Slim, from the Middle East Institute in Washington, says Annan's plan has "reversed the political dynamic in Syria" by dropping the previous Arab League stipulation for Assad to delegate powers to his vice president.
"There is a narrative now in Syria that the international community does not want Assad to go," she said.
"This keeps Syrians on the fence because they are no longer sure if Assad will go," she said, referring to those who have not openly joined the revolution out of uncertainty or fear.
Slim said the chances of Syrian forces leaving towns were close to nil. "Once Assad starts drawing back troops, millions will start demonstrating and Assad can't afford to see this."
Instead, she said, Assad will exploit loopholes in the vaguely written plan and argue over its wording. "We are in for a period of protracted negotiation about what the deal means."
Meanwhile, she predicted, Assad will pursue his offensive on outgunned rebels who have resorted to hit-and-run attacks, rarely holding ground against the army as they tried to do in the central city of Homs before being pushed out in early March.
Anthony Cordesman, a military analyst at the Center for Strategic and International Studies in Washington, saw no sign yet that the military balance was tipping against Assad.
"When you are dealing with armor and artillery, light weapons really aren't enough," he said.
"There could be a sufficiently high rate of defection, but we haven't seen this shift. If the Assad administration concentrates force, it can defeat (the rebels)."
In the long term, Cordesman said that Assad's military moves would serve to alienate more of his citizens. Shelling cities, he said, could only succeed on a case-by-case basis and would always leave a population of infuriated civilians behind.
Most analysts agreed that Assad's acceptance of Annan's peace plan could only buy him a limited amount of time.
"In the short term, the stalemate is definitely to his advantage," said Phillips. "But can it be sustained in the long term?"
REUTERS