Businesses Add Jobs, Service Sector Growth Dips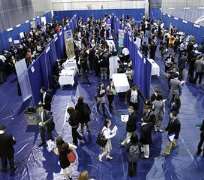 U.S. businesses added 209,000 jobs in March, suggesting the recent improvement in the labor market was intact, a report by a payrolls processor showed on Wednesday.
The ADP National Employment Report was slightly above economists' expectations for a gain of 200,000 jobs. Analysts said it did not change their forecasts for the government's more comprehensive labor market report for March due on Friday, which includes both public and private sector employment.
Job gains for January and February were also revised up to 182,000 and 230,000, respectively. The report is jointly developed with Macroeconomic Advisers LLC.
"There's still a very, very long way to go with this healing we need to do in the labor market, but there is a little bit of steam that's picking up here," said Sam Bullard, senior economist at Wells Fargo in Charlotte, North Carolina.
"Firms are not able to get as much efficiency gains out of employees; we've seen a pick-up in the work week but that can only go so far. ... Firms are going to have to start looking at adding more people to meet existing demand."
A separate report showed the pace of growth in the vast U.S. services sector slipped last month, while the forward-looking new orders gauge eased.
The Institute for Supply Management said its services index fell to 56.0 last month from 57.3 in February, shy of economists' forecasts for 57.0. The pullback in the rate of growth came after the index rose to its highest in a year in February.
"We think it's consistent with the current tone of economic activity and points to growth of about two percent," said Millan Mulraine, senior macro strategist at TD Securities in New York.
The services sector accounts for about two-thirds of U.S. economic activity. The employment index improved to 56.7 from 55.7, while a measure of prices paid fell back to 63.9 from 68.4.
The day's data was overshadowed on Wall Street as investors focused on Tuesday's comments from the Federal Reserve. U.S. stocks were down about 1 percent in mid-morning trading.
The nonfarm payrolls report from the U.S. Labor Department on Friday is expected to show a gain of 203,000 jobs last month, including a rise in private payrolls of 218,000.
The unemployment rate is seen holding steady at a three-year low of 8.3 percent.
The Labor Department report has shown the economy added more than 200,000 jobs in each of the last three months, helping to keep the economic recovery on track.
Federal Reserve policymakers backed away from the need to begin a third round of monetary stimulus to boost the economy as the recovery gradually improves, minutes from the U.S. central bank's last meeting showed on Tuesday.
Still, the Fed's assessment of the economy remained cautious. Economists expect growth to have slowed in the first quarter compared to the 3.0 percent annualized rate in the final months of last year.
Economists often refer to the ADP report to fine-tune their expectations for the Labor Department's payrolls numbers, though the two sets of data are not always well correlated.
The average difference between ADP's figures and the government-reported private jobs numbers over the last 12 months was 1,000, according to Credit Suisse.
Other reports on Wednesday provided hints of optimism for the struggling housing market as applications for mortgages gained last week, while home prices excluding distressed sales managed to rise in February.
The Mortgage Bankers Association said its seasonally adjusted index of mortgage application activity, which includes both refinancing and home purchase demand, rose 4.8 percent in the week ended March 30.
Data from CoreLogic showed overall home prices declined 0.8 percent in February, but excluding cheaper distressed sales, prices rose 0.7 percent.
REUTERS