Senate Demands NBC, NCC Merger Plan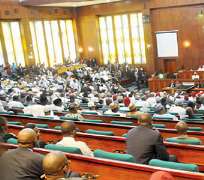 ABUJA, April 03, (THEWILL) - The Senate Committee on Information and Media has asked for detailed clarification on the proposed merger of the National Broadcasting Commission (NBC) and the Nigerian Communications Commission (NCC).
"The merger talks have been a source of concern for the Committee, and it would need proper briefing on the subject matter," the chairman, Senator Enyinnaya Abaribe said during an oversight visit to the NBC.
But he promised that the Committee would render legislative support to the NBC in order to fast-track the quick transmission from analogue to digital broadcasting in the country.
Although there is yet no provision in the laws of the Commission mandating broadcast stations to go digital, the Senate Committee on Information and Media has proposed a possible amendment to serve as catalyst to the transformation.
Responding to queries, Director-General of NBC, Mr. Yomi Bolarinwa told members of the Committee that his commission had been advised on the proposal by the Federal Government. He explained that several committees were set up to consider the proposal on the need to cut down the cost of governance.
On the analogue-digital transmission, Bolarinwa said that a report had been produced by stakeholders in the industry on the way forward. He noted that because it involved huge sums of money, the federal government must take the lead in the project.
"The transmission must be government-driven. In other climes it comes in form of subsidy for the citizens. The report is ready but we need a policy backing to give the project a push," he said. "I think that the National Assembly should drive the transmission process as it has been done in other countries."