OBASANJO RESIGNS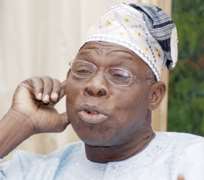 Former President Olusegun Obasanjo yesterday resigned as Chairman, Board of Trustees (BoT) of the ruling Peoples Democratic Party (PDP). He had been the chair since leaving the office of the President in 2007 after completing his two terms in office.
In a statement he personally signed, Obasanjo said he had sent his resignation letter to the newly-elected National Chairman of the party, Alhaji Bamanga Tukur. 'I have formally sent in my letter of resignation as the Chairman of BoT of PDP to the National Chairman of the party as prescribed in the party's constitution,'' he said.
The former president added: ''I have formally requested the President to allow my bowing out and to issue a short statement to that effect.
''By relieving myself of the responsibility for chairmanship of BoT of PDP, I will have a bit more time to devote to the international demand on me,'' he wrote in the letter
The former President said that his resignation would give him time ''to give some attention to mentoring across the board nationally and internationally in those areas that I have acquired some experience, expertise and in which I have something to share''.
Obasanjo said his exit would afford him more time to develop 'my Presidential Library and to mobilising and encouraging investment in Nigeria and Africa.'
He noted that before the last general elections, he believed that if PDP produced the President, it would be time for him to reduce his partisan political activities.
Obasanjo recalled that he was actively involved in bringing forth 'my successor president from PDP in 2007.
''In 2011, I was in the vanguard of working for PDP to produce a president for Nigeria. God answered our prayer.'
When Daily Sun sought reactions from notable PDP chieftains, especially from the South-West where Obasanjo hails from, they claimed ignorance of the development. Chief Ebenezer Babatope, former Minister of Transportation, said: 'I have not heard about it and I am not aware of such a development, if and when it is made official, then I can make comments on that. So, give me some time to confirm because I do not want to make any comment on what I am not sure about.'
On his part, ex-Minister of Works, Adeseye Ogunlewe, responded: 'I am not aware of such a development, maybe you should contact the Peoples Democratic party (PDP) secretariat and confirm from them. I am not in a position to make any comment on that.
Also Olatunji Shelle, PDP Chairman, Lagos State chapter, said: 'This has come as a surprise and I am not aware of this development. Has it been made official? When I find out and I have accurate details of the development, then I can comment on it. For now, I cannot make any useful comment.'
Also, PDP chieftains yesterday were very
circumspect  in reacting to the resignation.
Secretary of the party's Board of Trustees, Senator Walid Jubrin, feigned ignorance of the development, as he said he was not aware.
Another chieftain of the party who vied for the office of national chairman at the just-concluded national convention, Dr Muhammed Abba Aji, expressed shock.
'Are  you sure he has resigned? The whole thing is amazing to me. What are the reasons he gave in his letter? Well, it is shocking.''
Former national chairman of Grassroot Democratic Movement, who was also an aspirant for the office of national chairman of the PDP, Alhaji Gambo Lawan, equally expressed shock, but  noted that the former president  deserves his rest.
''He must have his reasons, but more importantly, Baba Obasanjo has served this country, meritoriously, and he needs to rest. No one can take it away from him that  he played his role, as former military head of state and two-term civilian president and as chairman of Board of Trustees of our great party-- the office he has just relinquished, very efficiently.''
At the residence of Alhaji Tukur, Daily Sun could not gain access to him to seek  his reaction, as one of his aides disclosed that he was in a meeting with top officials of the party.